Telaga Tujuh Serendah
Telaga Tujuh Serendah is about 10-15 minutes drive away from Serendah Waterfalls. If you happen to be in the vicinity, you may want to consider dropping by for 30 minutes or so to see the seven unique wells. These wells are always overflow with water from a river that flows downstream. There are two shelters with benches that you can rest and enjoy. During raining days, strong winds are common happenings here.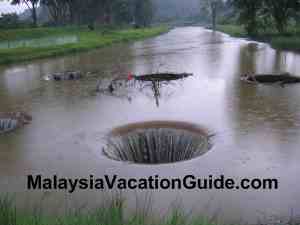 The unique wells with waters flowing into them.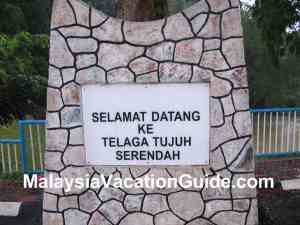 Signage of the seven wells.
Locals come here during the weekends and in the evenings for picnic or relaxation. Take care of your children while you are here as the water flowing down is strong. There is a big pond within the vicinity of the wells. You can see nice hills surrounding this place as well.
Admission Fees and Operation Hours
Operation Hours: This is an open area.
Entrance Fees:
No fee is charged as there isn't any amenity here apart from the shelter and stairs.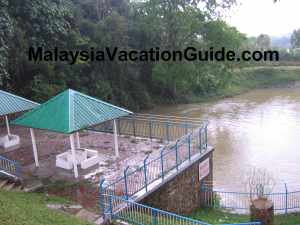 Simple shelter with benches.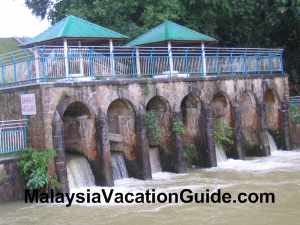 Water flowing downstream from the wells.
Video

See the video of the wells taken during a rainy day.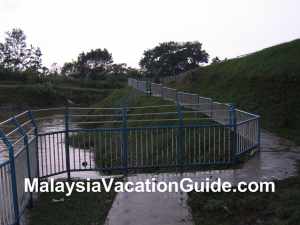 The concrete steps and safety rails.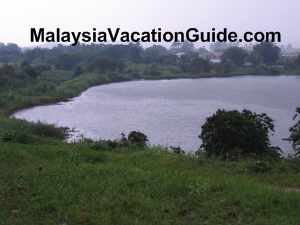 The large pond beside the wells.
Getting Here
This place is about 60 km away from Kuala Lumpur and will take approximately 45 minutes to an hour to reach here. Use the NKVE highway and exit at Rawang toll. After the toll, turn right towards Rawang. You will pass by Rawang town. Certain stretches of the trunk road are narrow hence you will have to drive carefully especially when traffic is heavy.
After Rawang town, continue towards Serendah and look out for the police station. Go straight and turn right at the traffic right towards Kg. Dato Harun. Keep going and look out for signages of the wells to your right.
Those who have GPS can key in the following coordinates:
N 03° 21.822'
E 101° 36.748'