Port Dickson Beach
Port Dickson which was known as Tanjung a long time ago was founded by John Frederick in the year 1889. The abundance of tin ore in the nearby town of Lukut at that time enabled the development of this town into a trading centre and a beach resort. Located approximately 60km south of Kuala Lumpur, this town resort is accessible by using the North South and Seremban-PD highways. It will take approximately 75 minutes to reach this town.
Port Dickson is located near the Straits of Malacca with a coastline stretching up to 18km. The popular beaches along this coastline are Teluk Kemang and Blue Lagoon which are both located south of PD town. There are public parks by the beaches that you use to have your family picnics or recreational activities. Many of the hotels here have private beaches that you can use if you are a guest of the hotel.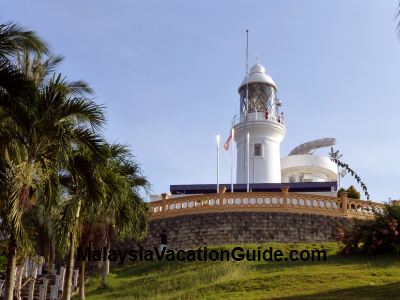 The Cape Rachado Light House at Tanjung Tuan south of Blue Lagoon
Cape Rachado Lighthouse
Further down south of Blue Lagoon beach is Tanjung Tuan where a 16th century lighthouse built by the Portuguese still stands today. It used to be a lighthouse that guided the ships to Malacca harbour. There are 66 flight of steps leading to the lighthouse. Tanjung Tuan is also a good place for bird watchers as migratory birds such as sparrows, hawks, eagles and swallows can be seen here during the months of March-April and September-October.
Activities and Food
Activities that you can do here include water skiing, wind surfing, sailing, yachting and fishing. There are many stalls along Teluk Kemang where you can do your shopping. Souvenirs such as batik and local handicraft can be obtained here.
Being a town near the sea means that you will be able to get good seafood from many of the restaurants here. One of them is called Pantai Ria Restaurant which serves halal Chinese cuisine. It is located along Jalan Pantai with both air-conditioned and non air-conditioned dining options.
The address of the restaurant:
Port Dickson Pantai Ria Restaurant
Lot 3/223 Wisma Lim Chong Hai
7 1/2 Miles, Jalan Pantai
Port Dickson

Tel: +6 06 6625122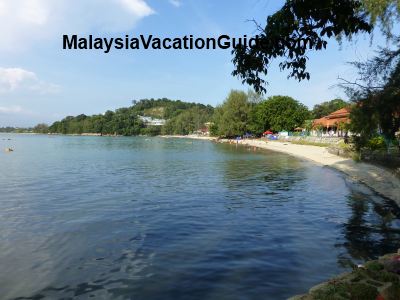 The calm beach near Cape Rachado Lighthouse
Accommodation
There are many hotels, resorts and private bungalows that one can stay. One of the popular hotel is the Avillion, where you can have the option of staying in chalets built on stilts above the water.
The other one is Thistle Resort at km 16 along Jalan Pantai at the Teluk Kemang beach. Other resorts include Lexis, AnCasa Resort & Spa and Glory Beach Resort. 


Getting Here
PD takes approximately 1 hour and 15 minutes drive from the city of Kuala Lumpur using the North South Highway and PD-Seremban highway. Exit the North South Highway at PD toll. As you exit, go straight and you will see a traffic light.
Turn right at this traffic light and go straight for approximately 4km until you enter the Seremban-PD Highway toll. Drive along this toll until you reach a roundabout. Turn left to Teluk Kemang at the roundabout if you are going to Thistle Hotel, PD Tiara Beach Resort or PD World Marina. Turn right if you are going to PD town or other hotels located at Km 1 to Km 10.
If you are not driving, you may want to take the KTM Komuter train and stop at Seremban station. From here, you can take a bus or a taxi to PD.