Zoo Negara or National Zoo
Zoo Negara was established in 1963 in Ampang, a town which is about 10-15 km away from the city of Kuala Lumpur. It has about 5,500 animals from over 400 species for you to discover. This place is a popular attraction for the locals with small children especially during the weekends and public holidays. Many parents with young children find it an educational place to bring their children.
The main attraction of the zoo is the Multi-Animal Show which is on twice daily at 11am and 3pm. On Fridays, the morning show starts at 11:00am and the afternoon show at 3:30pm. This show features performances from sea lions and other animals at the open-air amphitheatre which is located near the Hornbill Centre.
The Giant Pandas
The latest attraction is the giant pandas from China which you can now see at the Giant Panda Exhibition Centre. Known as Xing Xing and Liang Liang, this endangered species are adorable. Make sure you visit them. Some facts about pandas.
They spend an average of 15 hours a day eating
Their fur is thick and wiry and can grow up to 10cm long
An adult can produce a dropping of 62lb a day
The skin is black where its fur is black and pink where its fur is white
Its jaw and cheek muscles are powerful that they can chew an aluminium dish to pieces
Their throats have a special lining to protect them against bamboo splinters when eating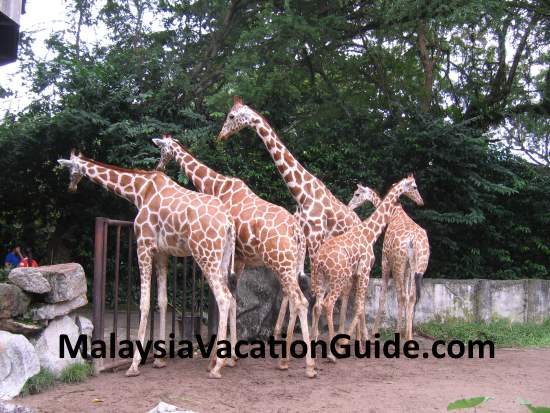 The giraffes near the entrance of the zoo.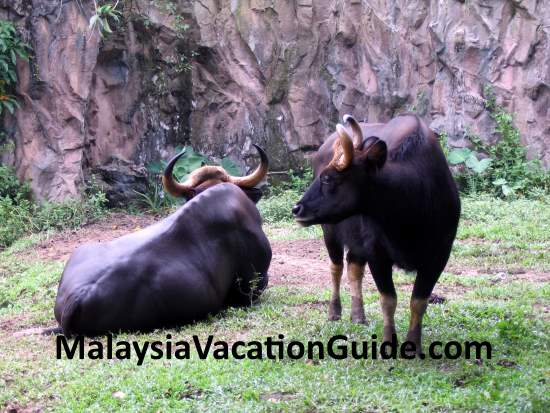 The endangered Malayan Gaur or the Seladang.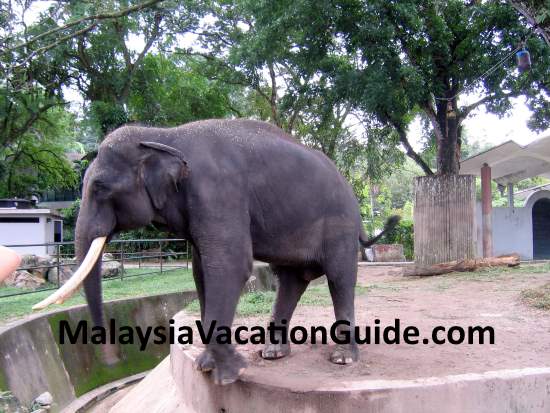 The huge elephant near the entrance of the zoo.
Trams
If you have small children and prefer not to walk too much, there are trams that you can take. The tram will take you round the zoo where it will stop halfway for you to get down and walk around. You can take the next tram once you are ready to go back to the starting point. The tickets can be purchased at the "Tram" counter once you are inside the zoo.

Malaysian with MyKad
Adults (12 years and above): RM8.00 
Children (2 to 12 years): RM5.00
Below 2 years or Under 90cm: FREE

Non-Malaysian
Adults (12 years and above): RM11.00 
Children (2 to 12 years): RM9.00
Below 2 years or Under 90cm: FREE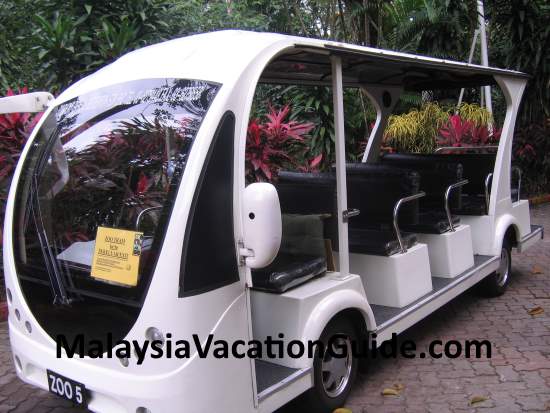 The tram that shuttles visitors around the zoo.
Look up for the following animals while you are here:

Amphibians World section displays amphibians such as frogs that are found in Malaysia.
Birds from various species are given the freedom to fly in big cages. Take note of the Hornbills which are found in big numbers in Sabah and Sarawak. Pelicans are also found in big number at the lake as you enter the zoo.
Reptiles such as tortoise and snakes are located at the Reptile House.
Mammals which are not easily located in the wild can be found here. Children will be fascinated with the elephants, giraffes, leopards, tigers, lions, Malayan Gaur, deer, tapir, racoon, rhinoceros, kangaroos, bears and camel. Many of these animals are brought from all over the world. Remember to see the signages that provide brief information about these mammals. Those who are into photography will find it an interesting location to take good shots of all the endangered animals here.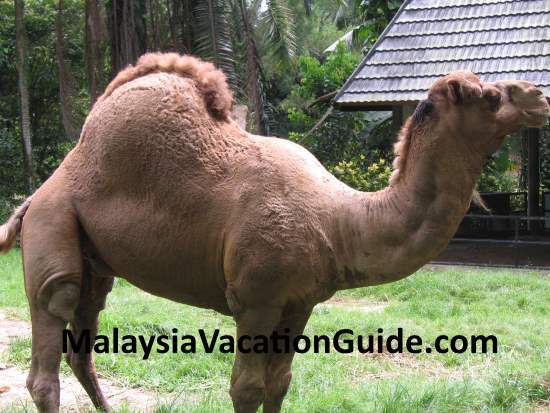 A medium-sized camel
A lion resting comfortably at the zoo
Penguins are also placed here. Notice their ability to swim in great speed but most of the time they will stand by the glass staring at the visitors that come to see them.

Insect Zoo has more than fifty species of insects. You will need to purchase tickets to enter this section of the zoo.
Flora can be found as you walk along the zoo. Medicinal plants, bamboos and other species of tropical rain forest trees are planted here as well. See whether you can find the "Asam Jawa" tree or tamarind tree in English, its fruit widely used for cooking and medicinal purposes.
The endangered black and white "tapir".
The peacock
Getting to Zoo Negara
Take the Kelana Jaya Light Rail Transit and alight at Wangsa Maju Station. From here, take the RapidKL bus No. U34 from the station to the zoo. If you are in a hurry, take a taxi to the zoo.
The other alternative is to take the Metrobus No. 16 from Central Market, KL Line.
Address:
Zoo Negara
Malaysian Zoological Society
Hulu Kelang, 68000 Ampang
Selangor Darul Ehsan.

Tel: +6 03 4108 3422
Fax: +6 03 4107 5375


Operation Hours Admission Fees
Operation Hours
Sunday to Monday from 9:00am to 5:00pm including public holidays.
Tuesday: Closed except on public holiday or if it is a Malaysian school holiday
Last admission is 4:00pm, so make sure that you come early.


Admission Fees 
Malaysian with MyKad
Adults (13 years and above): RM45.00 
Children (3 to 12 years): RM18.00
Senior Citizen (60 years and above): RM23.00
Admission is free for the handicapped.
Non-Malaysian
Adults (13 years and above): RM88.00 
Children (3 to 12 years): RM43.00


Check the offer price and buy the admission tickets here. 
Kuala Lumpur Accommodation

Most visitors will do a day trip to the park and stay at one of the hotels in Kuala Lumpur. There are a wide range of budget, boutique and luxury hotels that you can choose from. Book early and try to avoid the public and school holidays of Malaysia to get better deals.


Check and compare Kuala Lumpur hotels rates here.
Video Of Zoo Negara Tiger