Sultan Ibrahim Building
Sultan Ibrahim Building or Bangunan Sultan Ibrahim in Bahasa Malaysia is one of the historical landmark in Johor Bahru that you will not miss. Located at Bukit Timbalan, this building was the tallest building in Johor Bahru in the 1970's before taller buildings began to emerge.
Announcement: This building is closed to the public. However, you can still see it from afar.
Banguanan Sultan Ibrahim, the historical landmark of Johor Bahru.
Construction of the building started in 1936 and was officially opened by Sultan Ibrahim of Johor in 1942 at a cost of RM2 million. The total build up area was 60,000 sq. ft. Designed by Palmer and Turner, one of the more prominent British architecture firm, its design is a combination of western and eastern architecture.
Hospital Sultan Aminah was also designed by the same firm. Today, this building is still one of the tourist attractions in Johor due to its unique design and architecture.
During the Japanese occupation of the then Malaya in World War II, the building was used by the Japanese Imperial Army as its fortress and command centre to spy the activities of the British Army in Singapore.

This building was used as the state secretariat building, Chief Minister's office and the State Assembly Hall for 69 years until June 2009. Starting from 18 June 2009, most of these offices have been relocated to Kota Iskandar, the Johor State New Administrative Centre.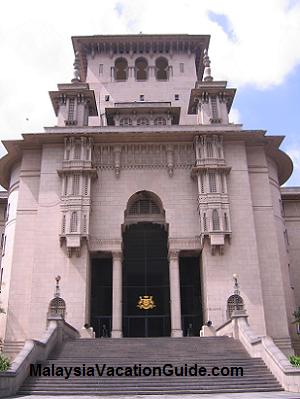 Another view of the building.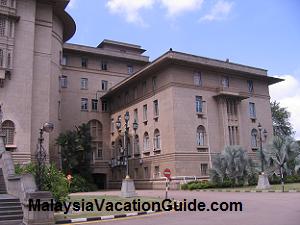 You will not miss this building if you are in JB. A great building for photography of historical building.
You will need to ask the permission of the security guards to enter the compound of this building. From here, you can see the Straits of Johor and the skyline of Singapore. You will probably want to take some photos of the building and the view of the surroundings while here. Visitors are not allowed into the building hence plan to spend about 30 minutes here.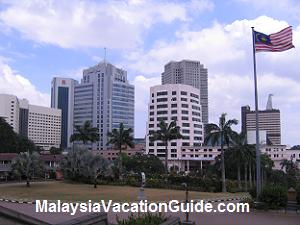 A view of the city from Bukit Timbalan.
View Larger Map
Sultan Ibrahim Building Operation Hours 
This building is opened to the public from 8am to 5pm, Monday to Friday. It is closed on weekends and public holidays.

Address: Jalan Bukit Timbalan, Johor Bahru.
Contact the tourism office for more information. Tel: +60 7 222 3591
GPS Coordinates: N1° 27.471 E103° 45.666.
Entrance Fee: Free of Charge