Pulau Kapas
Pulau Kapas means Cotton Island and is located about 5 nautical miles or 6km off the shore of Marang, Terengganu. This island is a place where many locals and backpackers go due to its fast accessibility from the jetty. You will be able to reach the island in 10 minutes time by speed boat from Marang Jetty. Marang is located 18km south of Kuala Terengganu, the capital of Terengganu state. Do not confuse this Marang town with Merang town. Merang town is located north of Kuala Terengganu.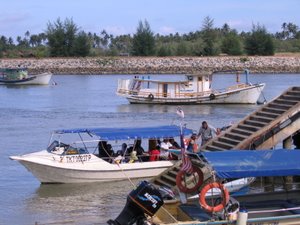 The speed boat coming back from Pulau Kapas at the Marang Jetty.
The activities that you can do on this island are swimming, snorkelling, scuba diving, windsurfing, fishing, kayaking. Motorised activities such as bannana boats are not allowed here. As you dive or snorkel, you will be able to see colourful fishes, corals, turtles and other marine creatures within the vicinity of the island. The Duyong was once spotted on this island as well. Divers, take note that there is a World War II shipwreck north of Gemia island where you can go for your diving activity.
Best Time To Go
If you would prefer to have a time of tranquility and peace alone on this island, the best time to go is during the weekdayswhen most of the locals are working. Due to the monsoon season, most resorts will be closed from November to February. Hence,the best time to go will be during the months of June, July, August and September.
A smaller island beside Pulau Kapas, called Pulau Gemia or Gem Island is located just north of the main island. There is only one resort in Gem Island known as Gem Island Resort. The standard room rate starts from RM207 nett per night onwards depending on the seasons and time of your booking. This is an exclusive island and the facility here are only accessible to those who are staying at the resort.

Accommodation
As it only takes 10 minutes by speed boat from Marang Jetty, most of the locals just go for a day trip to the island. Ifyou do not want to rush, you can stay at the resorts in the island. There are about 9 main resorts in Pulau Kapas and 1 resort in Pulau Gemia. Chalet, dorm and room rates ranges from RM20 to RM300 per night.
The 9 resorts at the main Kapas Island are:

Turtle Valley Chalet
The Light House
Duta Puri Island Resort
Kapas Island Resort
Kapas Beach Chalet
Makcik Gemok Beach Resort
Qimy Chalet
Kapas Garden Resort
Harmony Camp Site

The one and only resort at Gemia Island is Gem Island Resort & Spa.

Getting Here
If you are driving from Kuala Lumpur, use the Karak and East Coast Highway and go towards Kuala Terengganu after you exit the Highway. Follow the coastal Highway 3 and you will pass the town of Kemaman, Kijal, Kerteh, Dungun, Rantau Abang before reaching Marang. The journey will take you 7 hours. Once you are in Marang, follow the sign board Jeti Marang and you will arrive here in 5 minutes. There are plenty of car park bays available for your use. 
The speed boat transfer cost RM30 for a return trip. The main service provider is Suria Link which has an office just by the jetty. Schedule of boat tranfer:
Marang Jetty to Kapas Island
9:00am, 11:00am, 1:00pm and 3:00pm (1:00pm service not available on Friday)

Kapas Island To Marang Jetty
9:30am, 11:30am, 1:30pm and 3:30pm (1:30pm service not available on Friday)