Istana Budaya Malaysia
The Istana Budaya or The National Theatre is one of the more established performing arts centre in Malaysia with many outstanding talents which include the National Symphony Orchestra, the National Choir, the National Youth Choir and many popular musicians. There are many shows that are being performed here ranging from the international musicals and concerts to ballet performances.

Established in September 1999, this theatre is located just beside the National Art Gallery along Jalan Tun Razak in the capital city of Kuala Lumpur. This state-of-the-art theatre construction started in the year 1995 and completed 3 years later. It was officially opened by former Prime Minister of Malaysia, Tun Dr. Mahathir Mohamad.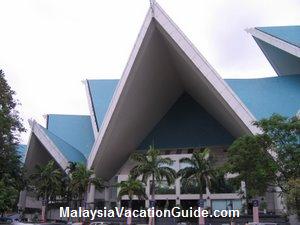 Notice the gigantic structure in the shape of betel leaves that characterize the main building.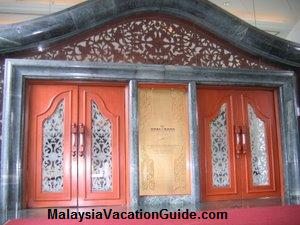 The unique design and carving at the main entrance.
This cultural centre of Malaysia has a unique architectural design inspired by the moon kite in flight. The main building as can be seen from outside is a gigantic structure which is designed in the shape of "sirih junjung", a betel leaves which are still used during Malays welcoming ceremonies and weddings. It can accommodate 1,392 seats at the auditorium at any one time and is rated as one of the 10 most sophisticated theaters in the world, similar to the Royal Albert Hall in London.
If you have the time, try looking at the layout of the building while you are there and you will discover that the interior of this building is built to resemble a traditional Malay house. There are 3 main areas in the buildings namely:
The "serambi"which consist of the lobby and the foyer.
The "rumah ibu" or main house which is the auditorium.
The "rumah dapur" or kitchen which consist of the stage and the rehearsal hall.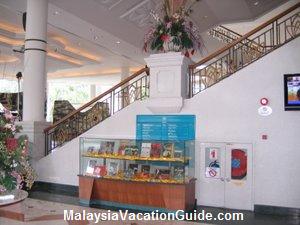 The spacious and well maintained interior of Istana Budaya.
Built at a total cost of RM210 million, the interior materials was constructed using high quality wood and marble. The carpets at the entrance are designed in the shape of cempaka flower and the beringin tree, following the traditional opera show of Malaysia known as Mak Yong.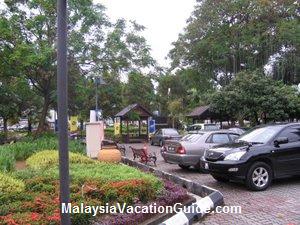 There are many bays of free car park that can use if you are driving here.
Dress Code and Contacts
Dress Code: Formal Wear - Lounge Suit, batik or Long-Sleeved Shirt.
Tel: +6 03 4026 5555
Tickets: Can be purchased at the Box Office counter Mondays- Fridays from 9am - 6pm.

Getting Here
Take the STAR LRT and stop at Titiwangsa Station. Take a taxi from here. You can also reach here by taking a 20 to 25 minutes walk from the station.
Take the PUTRA LRT and stop at KLCC Station. Take a taxi from here.