National Art Gallery
National Art Gallery is known in Malay language as Balai Seni Lukis Negara. This gallery displays paintings, sculptures, batik and other works done by artists from Malaysia and all over the world. Today, this building house more than 2,500 works of art that you can appreciate and admire while you are in the city of Kuala Lumpur.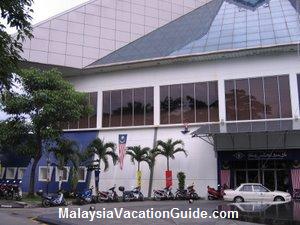 The art gallery blue coloured building just beside Istana Budaya.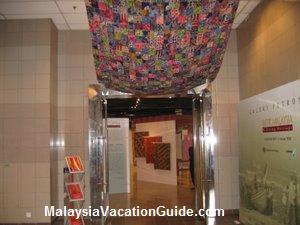 Entrance to one of galleries that exhibit a collection of batik design.
Other exhibits that you can see here are the experimental works and touring exhibitions with different themes every now and then. If you are new to art, this is a good place to see for yourself and be aware of the happenings in the world of art.
The building is located between the National Library and Istana Budaya, a modern state-of-the-art where performances are held regularly. It was Officially opened by former Prime Minister of Malaysia, Tun Mahathir Mohammad on September, 16 2000 with a total space of 13,000 sq m.
Facilities that are available here include:
5 galleries of exhibits.
A Resource centre.
An Auditorium.
An outdoor exhibition area.
A creative centre for workshops.
A Cafeteria.
As an agency under the Ministry of Culture, Arts and Heritage, this centre is one of the biggest one in South East Asia where the it endeavor to support the work of arts by Malaysian artists. Exhibitions are also being organised by National Art Gallery overseas to help nurture the local artists in the international arena.
Apart from that, the gallery also host seminars, workshops and organised art competitions to encourage the appreciation of art among artists, students and the general public.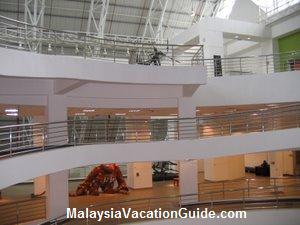 A view of a section of the building from the spiralling stairs as you go up the upper level.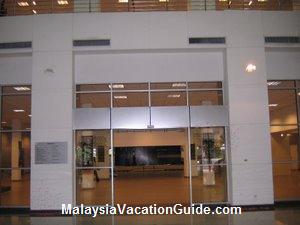 The entrance to the art gallery.
Guided tours service are available at specific time of the day.
Tuesdays to Sundays except Fridays: 11.00am and 2.30pm
Fridays: 10.30am and 3.00pm

All you need to do is assembled at the information counter before the tour time and you will be taken on a organised tour of the art gallery.

Getting Here
Take the STAR LRT and stop at Titiwangsa Station. Take a taxi from here. You can also reach here by taking a 20 to 25 minutes walk from the station.
Take the PUTRA LRT and stop at KLCC Station. Take a taxi from here.
You will probably see the blue colour Istana Budaya building before reaching this place. If you are driving, you can park your car at the car park in Istana Budaya and walk here.
Address:
National Art Gallery
No. 2, Jalan Temerloh, Off Jalan Tun Razak
53200 Kuala Lumpur 
Tel: +6 03 4025 4990


Operation Hours
Mondays - Closed 
Hari Raya Puasa Holiday - Closed
Hari Raya Haji Holiday - Closed
Tuesdays to Sundays - 10:00am to 6:00pm.

During the Ramadan month, the opening hours are from 9:00am to 5:00pm.


Admission Fee
Free of Charge