Kuala Lumpur Music Museum
Announcement: Unfortunately this museum had been closed in 2017 due to lack of funds. Head for other museums.

---
This Music Museum or Muzium Muzik is located at Jalan Raja, opposite Dataran Merdeka and beside KL City Gallery. This historical building was used to exhibit the history of Malaysia for some years before it was closed for renovation works.

It is currently showcasing the musical instruments from the different communities of Malaysia and has been opened to the public since 1 Oct 2015. Plan to spend 30 minutes here as only the ground floor is open to the visitors.
This historical building opposite the Sultan Abdul Samad Building.
The building was originally built from bricks and wood and was used by Chartered Bank of India, Australia and China. It was the first bank to operate in Kuala Lumpur.

The building was then rebuilt with the influence of Moorish and Islamic architecture. It was used by the Japanese as a telecommunication base during world war two. After the war, it was used as a commercial bank until the year 1965 when it was used by various governmental departments. In 1991, it was handed over to Department of Museums and Antiquities to be used as the National History Museum.
Music Museum Exhibits
Malay Musical Instruments
Nafiri is a type of wind instrument that is used in the Nobat ensemble and in official court royal functions.
The globular whistle flute or "Peputing" is made from clay and follows the shape of a bird or fish. It has been around since the Neolithic period.
Chinese Musical Instruments
"Qinqin" or the plum blossom instrument is a string instrument that is plucked with the fingers. It is made from wood which has a long neck with frets. This instrument is popular in southern China.
"Guzheng" is popular during the Qin Dynasty from 221-226 AD and is a plucked string instrument.
The entrance to the museum.
Music Museum entrance.
The drum used when Malaysia hosted the 1998 Commonwealth Games.
Indian Musical Instruments
Harmonium originates from India and is used in some local ensembles such as Ronggeng, Ghazal and Zapin.
Nadaswaram is an instrument used in classical music ensembles and in religious functions.
Sabah & Sarawak Musical Instruments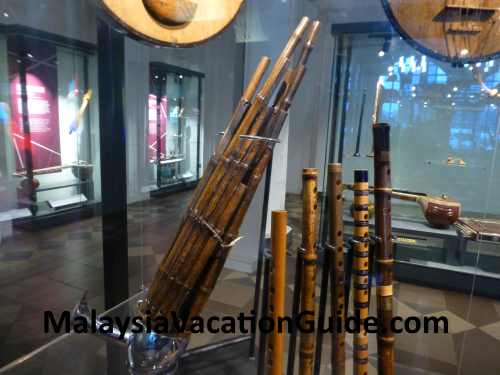 Piped instruments.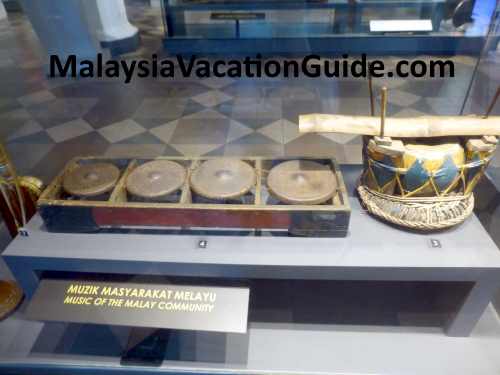 Malay community musical instruments.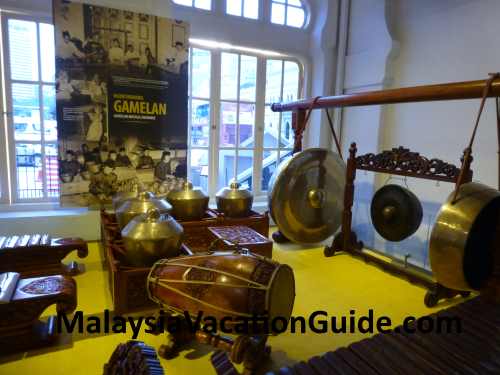 The Gamelan at the Music Museum.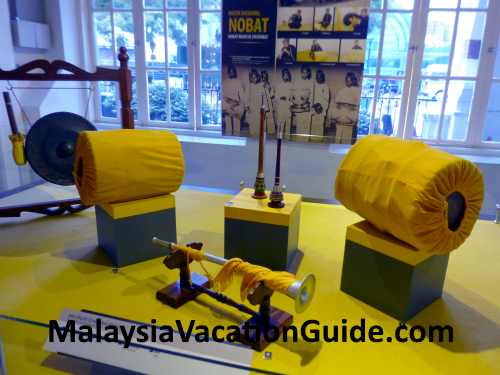 The Nobat.
Getting Here
Take the Kelana Jaya LRT Line and stop at Pasar Seni Station. This museum is about 10 minutes walk from the station. If you are taking the Sri Petaling LRT Line, stop at Masjid Jamek which is also about 10 minutes walk away.
Go KL City Bus Purple Line also stops at Pasar Seni Station. Take a walk from this station towards Dataran Merdeka.
The museum is opened from 9:00am to 6:00pm daily. Admission is FREE.

Address: 29, Jalan Raja, 50050 Kuala Lumpur.
Further information can be obtained by contacting +60 3 2604 0176.