Kuala Selangor Attractions
If you like nature and the outdoors, Kuala Selangor and the vicinity is a good place to spend a day or two to visit. It was the old royal capital of Selangor and was a place of great importance during the colonial times. The Malawati hilltop was conquered by the Dutch in 1784. Later on the British came and built a lighthouse which is still being used today.
Kuala Selangor Things To Do
#1 Malawati Hill
Park your car at the base of the hill and walk up the hill if you are fit. An easy walk will take you 20-30 minutes to reach the top of Bukit Malawati. You can also take the tram service for RM5/adult and RM3/child. See the canons, visit the museum, observe the silver leaf monkeys, see the historical lighthouse, notice the extremely old angsana trees and have a good view of Melaka Straits from the hilltop.
#2 Kuala Selangor Nature Park
Also known as Taman Alam Kuala Selangor in Bahasa Melayu, this nature park is located on the estuary of Sungai Selangor. See the secondary forest, mangrove forest, mangrove walkway, watch tower and a man-made lake. There are a few trails that you can walk ranging from 15 mins to 75 minutes. 
Main Trail - 550m
Bund Trail - 1.6km
Mangrove Walkway - 1km
Full Trail - 3.7km
#3 Seafood At Pasir Penambang
Take your lunch or dinner at Pasir Penambang. There are many restaurants here, the majority of them are built on stilts facing the Selangor River. You can also buy seafood at the wet market here. Biscuits, prawn crackers and other seafood related products are also available at the shops here. See more here.
#4 Sky Mirror Tour
Take a 3-4 hours Sky Mirror Tour from Pasir Penambang Jetty by boat to Sasaran Beach. Sasaran is a small town in Kuala Selangor. You can only go during certain times of the month. The low tides during that time will result in reflective shallow waters enabling good photos to be taken. The tour guide will take amazing photos for you. 
You will be able to see some crabs, clams and snails as you walk on the shallow waters.
One of the tour operator is Sky Mirror Funlife Jetty.
Address: 215, Jalan Pasir Penambang, Pasir Penambang, 45000 Kuala Selangor, Selangor
Tel: +6014-337 8310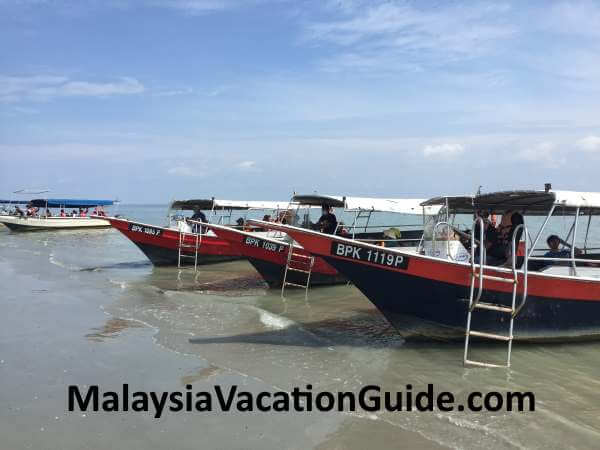 Boats docked at Sasaran Beach
#5 Eagle Feeding, Fireflies and Blue Tears Boat Tours
Eagle Feeding
These three boat tours can be taken separately or altogether. Sky Mirror Funlife Jetty provides these tours as well. See the many eagles coming to the boat as food are given to them. The fireflies and blue tears tours are conducted during the night.
During the blue tears tour, you will be given a scoop to scoop the water for algae that emit blue green light at night.
These tours are highly recommended.
Blue Tears