Kuala Lumpur Library
Kuala Lumpur Library or Perpustakaan Kuala Lumpur is located near KL City Gallery and Dataran Merdeka. This is the place to go if you are looking for books to read or simply need a place to do your research work. This air-conditioned building was built in 1989. This library is managed by Kuala Lumpur City Hall and has quite a complete range of books for your reference as well as borrowing.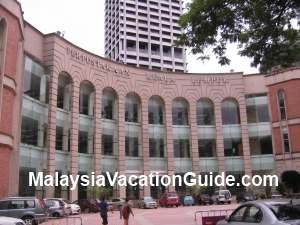 The entrance to the library.
Another view of the building.
The membership of the library is open to anyone who is four years old and above and residing in Kuala Lumpur and the surrounding areas. The adult library and children library are located in separate buildings but is within walking distance of each other.
Membership fee for adult 13 years and above is RM6 (Registration) + RM10(annual fee). 3 books and 1 CD can be borrowed. 

Life membership is open to adult 21 years and above for RM150. 8 books and 2 CDs can be borrowed.

Children 4-12 only need to pay RM6(Registration fee). 3 books can be borrowed.

The Children's Library also help to arranged activities such as Board games, Computer Class, Video Show, Storytelling Sessions, Puppet Show and Exhibition.
The duration of the borrowing period is 14 days. Renewal for another 14 days can be done via telephone. Fine of RM0.10 per day each book is imposed for late return of each book up to 14 days. After that RM0.20 per day fine will be imposed.
You can return your books by dropping them here.
Children's Library.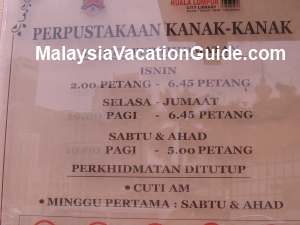 The operation hours of the library.
Kuala Lumpur Library Operation Hours


Monday: 2 pm to 6.45 pm
Tuesday-Friday: 10 am to 6.45 pm.
Saturday and Sunday: 10 am to 5 pm.


The library is closed on the first Saturday and Sunday of the month.
It is also closed when it is a public holidays.

Getting Here


Take the LRT trains and alight at Masjid Jamek station. Take a walk towards Jalan Raja and go towards KL City Gallery. The library is located just beside the Gallery.
Address:

No. 1, Jalan Raja
50050 Kuala Lumpur
Tel:+60 3 2612 3500/3508

Other Branches


The KL Library has 9 branches in various towns to encourage intellectual development of the peoples within the vicinity. The 9 branches are located at Taman Tun Dr. Ismail, Jelatek, Desa Tun Razak, Gombak Setia, Pantai Dalam, Cheras, Setapak, Bandar Tun Razak and Sentul.
1) Taman Tun Dr. Ismail Library 

Pusat Komuniti Taman Tun Dr. Ismail
Lot 31204, Jalan Athinahapan
Taman Tun Dr. Ismail
60000 Kuala Lumpur
Tel: 03 7726 6310


2) Jelatek Library

PPR Jalan Jelatek
Kampung Datuk Keramat
54000 Kuala Lumpur
Tel: 03 4251 6912


3) Desa Tun Razak Library

Blok 02-00-06, Jalan 9/11B
56000 Kuala Lumpur
Tel: 03 9173 3341


4) Gombak Setia Library

Blok 41-00-01
PPR Gombak Setia
53100 Kuala Lumpur
Tel: 03 6189 9541


5) Sri Pantai Library

Projek Perumahan Rakyat Sri Pantai
Blok 102, Pantai Dalam
59200 Kuala Lumpur
Tel: 03 2283 3269


6) Sri Sabah Library

Blok 64-00-06, Flat Sri Sabah 3B
Batu 3 1/2 Jalan Cheras
56100 Kuala Lumpur
Tel: 03 9284 4039

7) Setiawangsa Library

Tingkat 4-6, Pejabat Cawangan Setiawangsa
No. 1, Jalan Wangsa Delima 13 D'Wangsa
Seksyen 5, Wangsa Maju, 53300 Kuala Lumpur
Tel: 03 4143 8745


8) Bandar Tun Razak Library

Blok 88, Flat Sri Kota
Bandar Tun Razak
Cheras, 56000 Kuala Lumpur
Tel: 03 9171 0564


9) Bandar Baru Sentul Library

Aras 2, Kompleks Perniagaan dan Komuniti
BBS Jalan Sentul
51000 Kuala Lumpur
Tel: 03 4041 0981
10) 1 Wilayah Lembah Pantai Library

Jalan Pantai Permai 2
Bukit Kerinchi
59200 Kuala Lumpur
Tel: 03 2283 3748
11) Sri Pantai Library

Projek Perumahan Rakyat Sri Pantai
Blok 102, Pantai Dalam
59200 Kuala Lumpur
Tel: 03 2283 3269
Within Vicinity Of Kuala Lumpur Library