Kota Tinggi Waterfalls
Announcement: Take note that as of 2 Jan 2023, this waterfall and the resort are closed until further notice. The waterfall is scheduled to be open soon. We will update the status on our website once it is in operation. You can contact Majlis Perbandaran Kota Tinggi for more information.
The Kota Tinggi Waterfalls is the place where many locals especially those with young family members go for a time of refreshing with the cool water that originates from Panti Mountain or Mount Panti. Unlike most waterfalls in Malaysia, this waterfalls have been privatised and there is an entrance fees imposed to all visitors.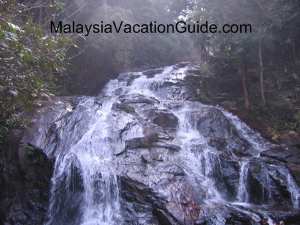 The natural waterfalls that create a peaceful ambient.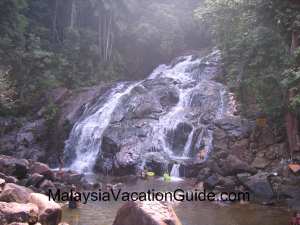 Notice the mist created by the rushing waterfalls.
This place can be crowded during the weekends. There are also chalets and camping sites that you can book if you intend to stay overnight here. The name of the resort here is called Kota Tinggi Waterfalls Resort.
This waterfall cascades down from a height of 34 metres into three natural swimming pools. Fun-slides have been erected for visitors to slide down from the higher ground to the pool. There are food stalls by the waterfalls for you to enjoy your meals in the midst of the natural settings of the falls. You will notice the mist that surrounds the falls, helping to cool down the temperature of the surrounding areas.
If you are into jungle trekking, try going up the 634 metres Muntahak Mountain or Gunung Muntahak. Plan to spend about 3 hours here. If you are staying here, you can also try the Jungle Night Walk. Get a guide if you are not sure of the trails here. As with any of the natural tropical rain forest of Malaysia, you will experience the sound of the cicada and birds.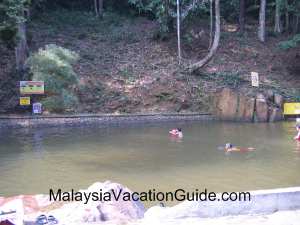 The pool where you can have a swim.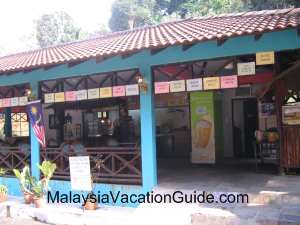 Stalls that serve drinks and food. There are tables and chairs near the waterfalls that you can rest and enjoy your meals.
Operation Hours

The waterfalls is opened daily:
Monday to Saturday - 8:00a.m. to 7:00p.m. 
Sunday - 8:00am to 12:00am
Address:
KM 16, Jalan Lombong
81900 Kota Tinggi,
Johor.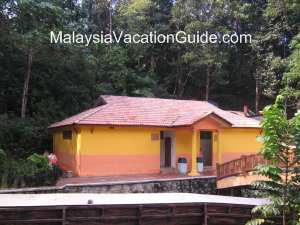 Restrooms for changing and bathing at the falls.
Video

See a short video clip of the waterfalls.
Entrance Fees
Malaysian:
RM7.50 (Adult) 
RM3.50 (Children)
RM3.00 (Car/Van Parking Fee)

Non-Malaysian:
RM10.00 (Adult) 
RM5.00 (Children)
RM5.00 (Car/Van Parking Fee)