Johor Zoo
Johor Zoo is located at Jalan Gertak Merah and is reputed to be the first zoo in Asia. It was established in the year 1928 by the late Sultan of Johor, Sultan Ibrahim Ibni Almarhum Sultan Abu Bakar and was opened to the public in the year 1962.Sultan Abu Bakar Mosque is located within the vicinity of the zoo. On a day with smooth traffic flow, it is about 10 minutes drive away from the city centre of Johor Bahru.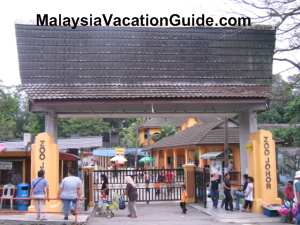 The entrance of the zoo. Plan to spend about half a day here.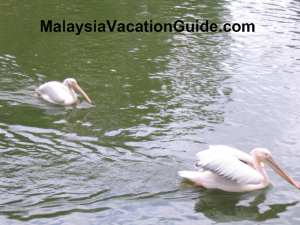 The pelicans swimming at the mini lake at the zoo.
It is a very much smaller scale zoo with an area of about 12.5 hectares compared to Singapore Zoo or Zoo Negara in Kuala Lumpur. However, this zoo is a popular place where families with young children go during the weekends and public holidays for a time of recreation or simply getting together for a time of relaxation. There are good facilities such as benches that you can use as picnic spots with your family members.
There are more than 100 kinds of animals and birds in this zoo. Here are some of the animals that you can see here.
Elephants
Lions
Indo-Chinese Tigers
Crocodiles
Horses
Flamingos
Wild Cats
Gorillas
Camels
Bears
Chimpanzee
Tapir
Wallabies
Swan
Iguana
Deer
Seladang
Hippopotamus
Recently, the zoo welcomed 3 newborn female African lion cubs. Each of the cubs weighed 5kg.

Activities and Facilities
One of the activities that you can do while here is paddling the boat at the mini lake located near the entrance of the zoo. Young children will be excited with this activity. There is also a photography corner where you can take some pictures with the animals. Horse riding is another interesting event that you will enjoy.
Playgrounds, food stalls, recreation square and restrooms are also provided for the convenience of visitors. Bring along a cap and water as the temperature can be quite hot and humid in the afternoon.
Boat paddling at the lake.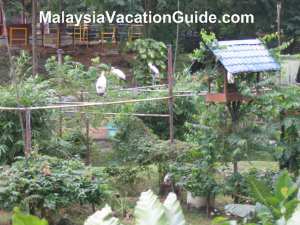 Some of the birds resting on the branches of the trees.
Operation Hours
The zoo is open daily to the public including public holidays.
Monday to Sunday:
9:00 am to 6:00 pm 

Address:

Zoo Johor
Jalan Gertak Merah 
80000 Johor Bahru
Johor Darul Ta'zim.

Tel: +607- 223 0404 or +607 224 5791

Entrance Fees
Adult - RM2.00 
Children (3 to 12 years old) - RM1.00 
Secondary Student - RM2.00
Primary Student - RM1.00

Camera and video camera are allowed to bring in without any charge.
Johor Zoo Location 
View Larger Map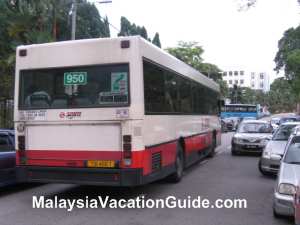 The bus to Johor Zoo.