Johor Art Gallery
The Johor Art Gallery building was built in the year 1910 and used to be the official residence of the Chief Minister of Johor, Dato' Abdullah Jaafar. He was the third Chief Minister of Johor then. The government decided that one way of preserving the unique architecture of the building was to turn it into an art gallery. Hence this art gallery located at Jalan Petrie near Johor Bahru was opened on 29 January 1994 by the Chief Minister of Johor.
Announcement: This building is no longer open to the public. Please visit other places of interest in Johor Bahru.
The front view of the gallery.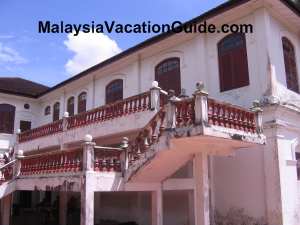 The back view of the double storey house built in 1910.
Initially, it was used to display the historical artifacts related to the arts and culture of Johor. It was then closed for renovation from 2000 to 2003. After its renovation in 2003, it was decided that the centre will function as a place for art education, collection, display, references, documentation and for artistic creativity.
This 2-storey house was opened to the public again on 6 May 2003 by Dato' Haji Abdul Ghani Othman, the Chief Minister of Johor.
Plan to spend about an hour or so while you are here.
Johor Art Gallery Exhibits
Permanent Exhibition Area

The exhibits at the ground floor feature the works of art by artists from Malaysia who has contributed to the progress of the nation's art in the form of its style, educational, cognitive, philosopical and ethical developments.

Temporary Exhibition Area
The exhibits at the first floor are temporary and changes from time to time. It features the children, young talents and amateurs' work of art. Both solo and group exhibiton from local and overseas are on display here.
The bullock cart at the compound of the historical building.
The huge drum outside the gallery.
Johor Art Gallery Operation Hours
Daily: 9.00 am - 4.30 pm 

Closed on Fridays.

Address:
Galeri Seni Johor
JKR 144, Jalan Petrie
80100 Johor Bahru, Johor Darul Ta'zim
Tel: +607 226 3266


Entrance Fees
Admission is FREE