Bukit 300 Peak - Hiking at Teluk Batik
Hike to Bukit 300 peak of Teluk Batik in the district of Manjung, Perak, Malaysia. Teluk Batik is famous for its beautiful beach, which offers a range of activities, such as playing with scooters, cycling and water sports.
There are also public facilities, restaurants, and shaded areas for picnics and sitting. Monkeys are often spotted at the beach, and visitors can even pitch a tent and stay overnight at the campsite for a fee.
Bukit 300 Peak
Hike to Bukit 300 Peak
Teluk Batik is not only a destination for beach lovers. It is also a popular hiking spot for nature enthusiasts and adventure seekers. Located in Teluk Murok Forest Reserve, Bukit 300 is a moderate trail that features stunning wildflowers and wildlife. The trail is primarily used for hiking and mountain biking, but it can also be enjoyed by walkers and runners.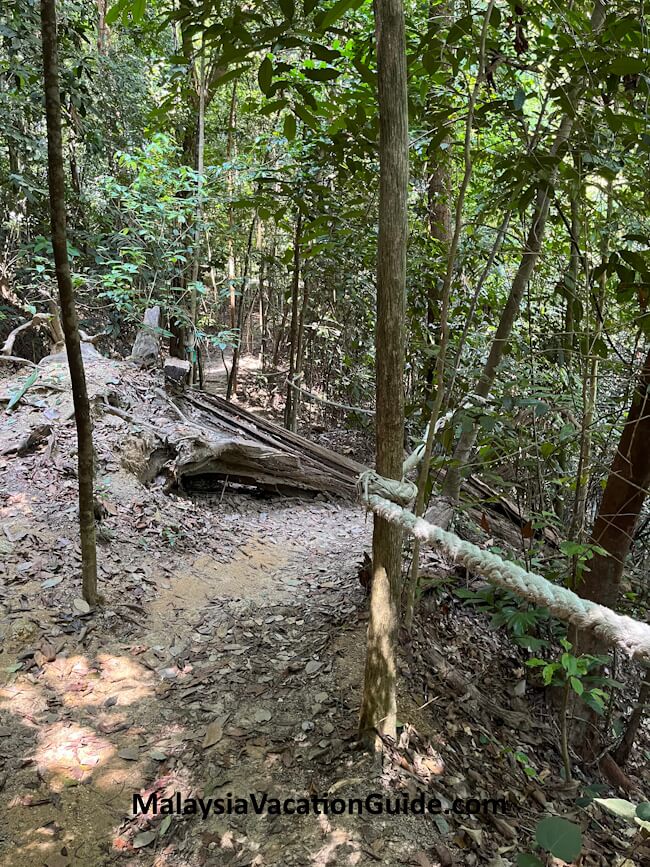 Steep trail with ropes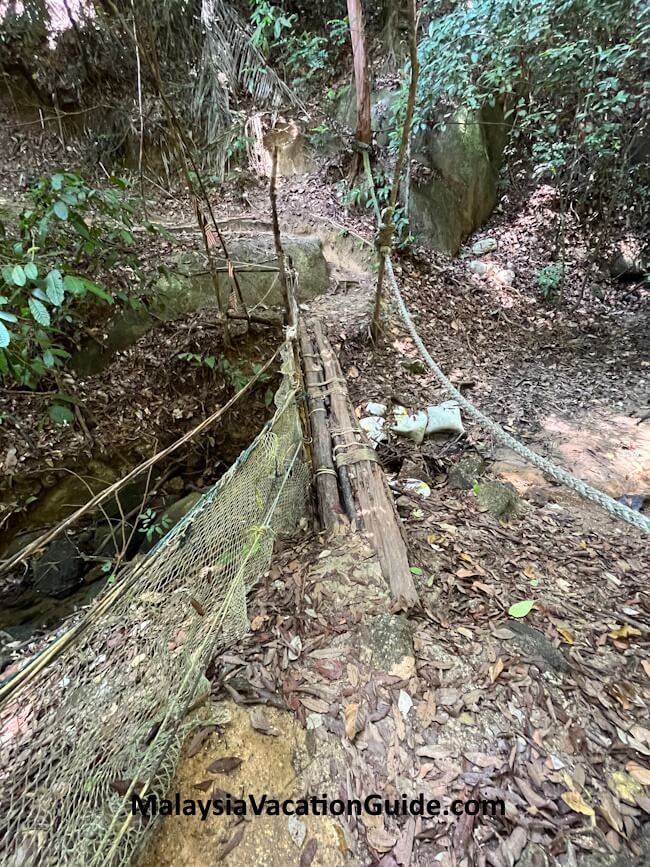 Another stretch of the trail
The Bukit 300 trail is a loop trail that covers a distance of about 5.3 km and an elevation gain of about 322 m. It takes an average of 2 hours to complete the trail, depending on your fitness level and pace.
The trail starts with a sandy entrance and winds through a dense forest vegetation. You should be aware of snakes and mosquitoes along the way. Additionally, some parts of the trail are shared with mountain bikers, so you should be careful and courteous when encountering them.
The trail consists of nine checkpoints, each marked with a signboard and a number. The checkpoints are as follows:
Checkpoint 1: The start of the trail
Checkpoint 2: A small bridge made of tree trunks
Checkpoint 3: A rocky area with a steep slope
Checkpoint 4: A flat area with a water pipe
Checkpoint 5: A junction where you can choose to go left or right
Checkpoint 6: A steep climb with ropes to help
Checkpoint 7: A flat area with a water tank
Checkpoint 8: A steep climb with ropes to help
Checkpoint 9: The peak of Bukit 300
At checkpoint 5, you can choose to go left or right. Both paths will lead you to the peak, but the left path is shorter and easier, while the right path is longer and harder. The right path also offers more scenic views of the surrounding hills and valleys.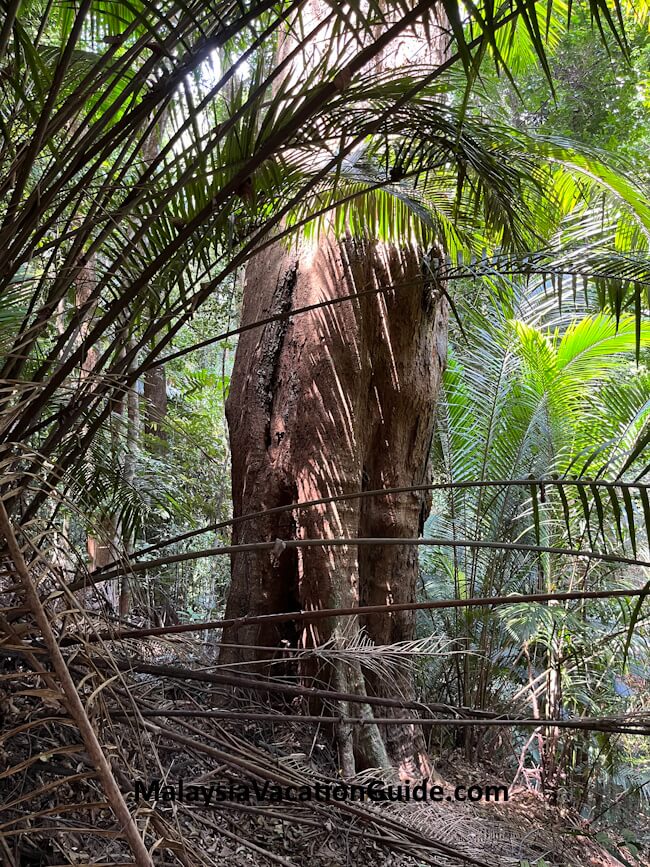 Palm tree along the trail
Shelter
At checkpoint 9, you will reach the peak of Bukit 300, which is about 300 m above sea level. Here, you can rest under tents, find a water point, and have a picnic. The view from the peak is not particularly spectacular, but it is a great spot to catch your breath and take a break before continuing on to the next destination.
From the peak, you can choose to go back the same way you came or take the downhill trail to the trailhead. The downhill trail is shorter but steeper than the uphill trail. It also has ropes to help you descend safely. However, it can be very slippery on rainy days, so you should exercise caution when using this trail.
Hiking in Teluk Batik until Bukit 300 peak is a rewarding and enjoyable activity for nature lovers and adventure seekers. It offers a moderate challenge, a diverse terrain, and a scenic environment. It is also a great way to exercise, relax, and have fun with your friends and family.
If you are planning to hike in Teluk Batik, you should prepare well, follow the trail signs, respect the nature, and stay safe. You should also make sure to park your car at a designated parking lot and pay the appropriate fee. And don't forget to bring your camera and capture the beautiful moments of your hike.
Bukit 300 Peak
When To Go
The Bukit 300 trail is open year-round and is beautiful to visit anytime. However, some factors may affect your hiking experience, such as weather, season, and time.
Weather: The weather in Teluk Batik is generally hot and humid throughout the year. The average temperature ranges from 24°C to 32°C, while the average humidity ranges from 70% to 90%. You should wear light and breathable clothing, apply sunscreen and insect repellent, and drink plenty of water when hiking in Teluk Batik. You should also avoid hiking during thunderstorms, as the trail can be dangerous and slippery when wet.
Season: The peak season for Teluk Batik is from November to February, which coincides with the school holidays and festive seasons. During this time, the beach and the trail may be crowded with tourists and locals, which may affect your enjoyment and privacy. You may also have difficulty finding parking spaces and accommodation. If you prefer a quieter and more peaceful hike, you may want to avoid this period and opt for the off-season instead.
Time: The best time to start your hike is early in the morning, preferably before 8 am. This way, you can avoid the scorching heat of the sun, which can be unbearable in the afternoon. You can also enjoy the fresh air and the morning dew on the plants and flowers. Moreover, you can finish your hike before noon and have enough time to explore the beach and other attractions in Teluk Batik.
Getting Here and Parking
Teluk Batik is about 10 km from the town of Lumut, which is the gateway to Pangkor Island. You can reach Lumut by car, bus, or ferry from various parts of Malaysia. From Lumut, you can take a taxi or drive to Teluk Batik, which will take about 15 minutes.
The entrance to the Bukit 300 trail is located near the Teluk Batik Resort, which is a large hotel with a swimming pool and a restaurant. You can park your car at the resort's parking lot for a fee of RM5 per entry. Alternatively, you can park your car at the beach's parking lot, which is free but may be crowded during peak seasons.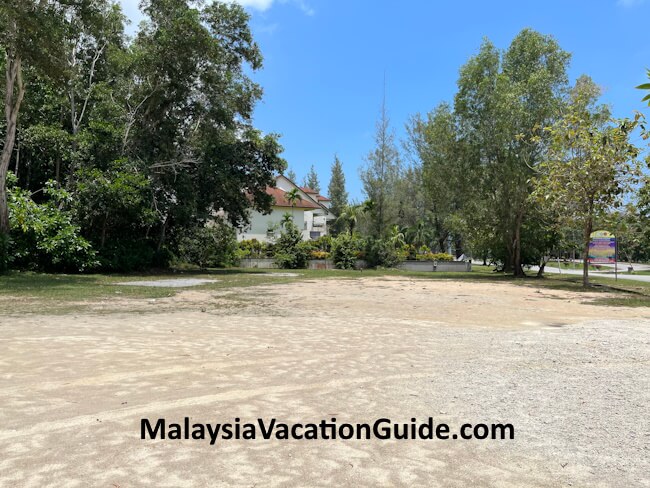 Free car parking bays at the entrance of the hill
See also Teluk Batik Beach and Perak attractions.