Selayang Hot Spring
Selayang Hot Spring is located on the left hand side of the trunk road as you travel from Jalan Ipoh towards the town of Rawang. This spring is located just before the flyover that leads to Bandar Baru Selayang. Look out for the signage "Kolam Air Panas" and park your car at the designated parking bays.
Three of the four hot springs can be seen here.
The hottest hot spring.
According to the locals, this place has been in existence for the past four decades and is a popular spot among the locals. They believed that this spring water is able to cure them of skin diseases and other ailments. Hence it is not surprising that you see many elderly and young people coming here to take bath especially during the weekends.
There are four hot springs. Three of them are big and one tiny shallow spring with diameter as small as a small well. The one that is located far left and furthest away from the car park has the highest temperature. You will not be able to use this water directly as it will scald your body.

Scoop the water and place it on a pail for it to cool down before using it. The one at the far right does not look clean as there is algae living in it hence it is not as appealing to use its water compared to the rest of the springs.
The smallest spring that children under the supervision of adult can play.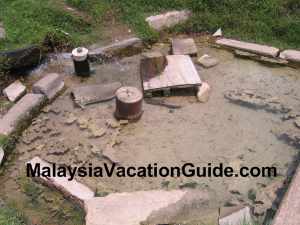 Hot water coming out from the underground.
Operating Hours and Fees
Operating hours: As early as 7am until late night

Fees:
Car: RM2.00 per vehicle
Motorcycle: RM0.50 per vehicle
Seasonal Pass: RM45.00 per month

Rental of pail and scoop: RM2.00
Use of toilet: RM0.30
The changing room and toilet facilities.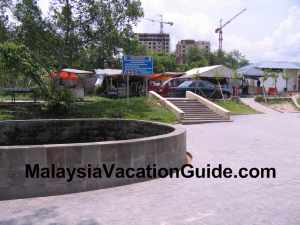 These food stalls operate in the evening selling nasi lemak, drinks and other local food.
Video

See the video of one of the hot spring well. Notice the bubbles that rise out from the hot water.
Getting Here
If you are coming from Petaling Jaya, use the LDP. After paying the toll, keep right and turn to MRR2. Go straight and keep to your left as you look out for Selayang/Rawang signage. Do not go straight on the MRR2 as this will lead you to Gombak and Genting Highlands.
Follow the direction towards Rawang and look out for the "Kolam Air Panas" which is located at the left side of the trunk road to Rawang.
If you have a GPS, the coordinates of this spring is:
N 03° 17.780' E 101° 36.768'