Rubber Products Exhibition Centre Malaysia
Rubber products have been developed and produced to help make our lives easier. Currently, the top three natural rubber producing countries are Thailand, Indonesia and Malaysia. These three countries account for 70% of total natural rubber being produced in the world.
The entrance to the exhibits.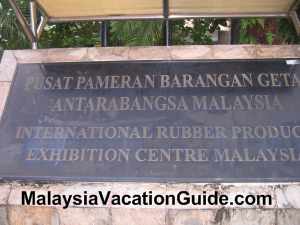 The signage to the exhibition centre.
Malaysia used to rank number 1 as a rubber producing country during the time when the British ruled the country. One of the main reasons the British asked the Indians to come to Malaya then was to work in the rubber estates as planting and tapping of rubbers were labour intensive.
If you are a student or just want to learn more about the history of Malaysian rubber, head for Rubber Research Institute Malaysia or RRIM located in Sungai Buloh. Go to the Exhibition Centre which is about 2 km away from the main entrance of the research station.
Some of the exhibits consist of products manufactured locally and abroad are on display here. There are a number of audio visual facilities at different exhibits that explain in greater details on the use of rubber.
Automotive Industry have benefited from this industry as the tyres and tubes are all made from rubber.
Industrial Rubber Goods.
General Rubber Goods.
Footwear.
Latex Products.
Plan to spend 1 hour or so here. You will realise that a lot of the products we use everyday to a certain extent has rubber content.
Big tyre outside the compound.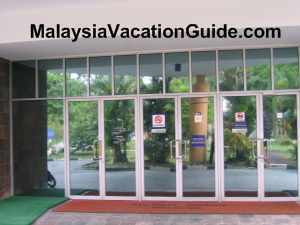 The entrance to the exhibition centre.
Exhibits Operation Hours and Fees
The operations hours of the exhibition centre:
Monday to Thursday: 8:30am to 4:30pm
Friday: 8:30am to 12:30pm, 2:45pm to 4:30pm
Saturday and Sunday: Closed

Admission is Free of Charge.

Getting Here
This centre is located in Sungai Buloh. You will need to register at the guard house before coming here.The GPS coordinates are:

N03° 09.911' E101° 33.527'
The address and general contact:

Lembaga Getah Malaysia
Stesen Penyelidikan RRIM
47000 Sungai Buloh

Tel: +603 6145 9400