The Royal Museum
The Royal Museum is also called "Muzium Diraja" in Malay Language. This museum is the latest addition to the many other museums in the city since 1 Feb 2013. This place is located on a hill and you will be able to see the Petronas Twin Towers and Kuala Lumpur Tower from here. 
History of Royal Museum
It used to be the royal abode of the King of Malaysia from 1957 until November 2011 when the royal family moved to the newly built palace or Istana Negara in Jalan Duta. The new Istana Negara is also located on a hill and is much bigger and modern compared to this one.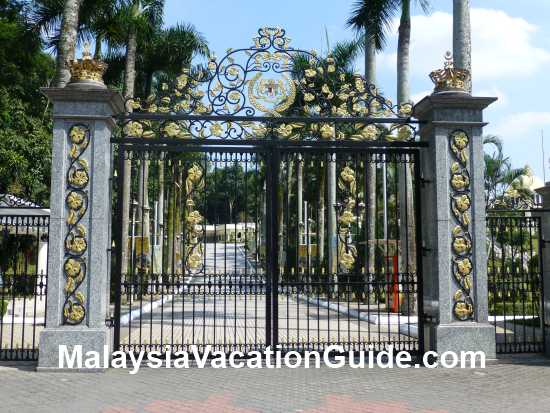 The entrance to the museum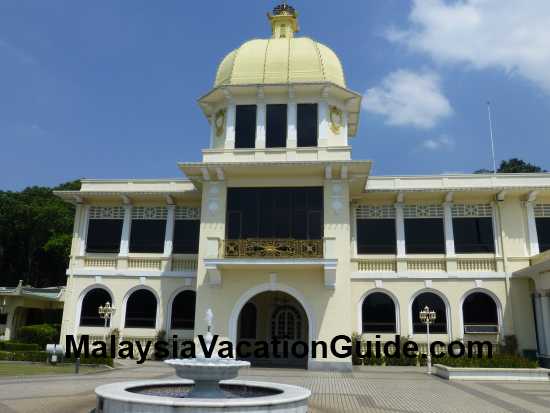 Notice the unique architecture of the palace.
This two-storey property was built in 1928 and used to belong to Chan Wing who hailed from Guangdong China. He was a mining tycoon and built this huge house for his big family to stay. In his day, this building located on a 11.3 hectare land was one of the grandest building in Malaya. During the World War II, the Japanese army used it as one of their operation hub followed by the British Military after the war.
This palace was also the temporary abode of Sultan of Selangor from 1950 to 1957. This place was acquired by the Federal Government and became the official residence of the King in 1957.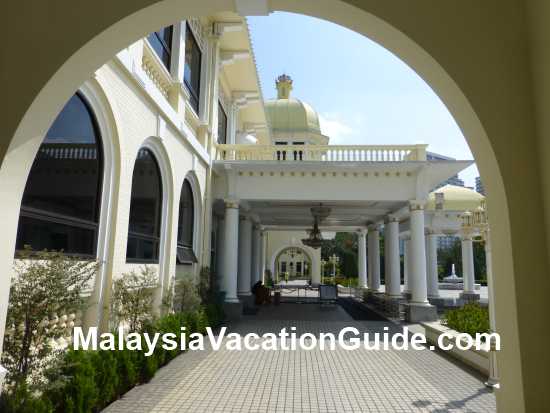 Another view of the musem
The view of Kuala Lumpur from the compound of the museum
While here, you will be able to see the halls, bedrooms, dining rooms, offices of the King and Queen, reading room, waiting rooms and the clinic. Shoes have to be taken off before entering this museum. Most of the sections have been cordoned off and you are only allowed to see them along the walkway in the palace.
Information about the particular section is shown on an LCD Display. If you are into history and art, you will appreciate the various carvings and design of the beams and structures of the palace. Take your time to admire this place but take note that photography is not allowed inside the building.
This is a good place for history students to find out more about the Kings and Queens of Malaysia.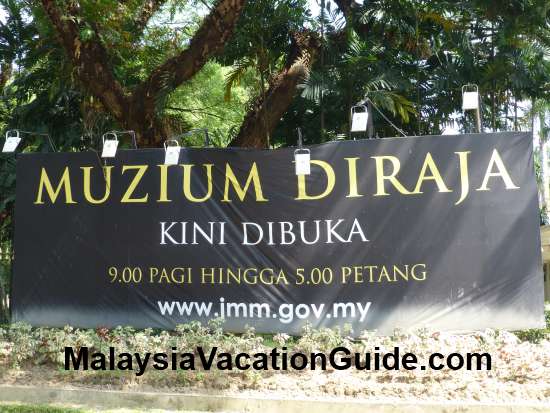 Banner informing the public about the new museum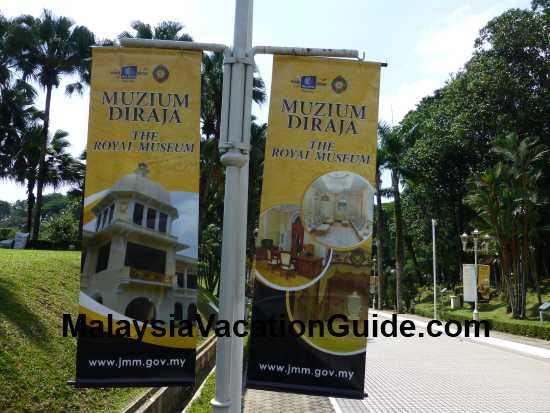 Road leading to the Royal Museum
Opening hours  
Daily 9:00am - 5:00pm
The museum is closed during Hari Raya Puasa and Hari Raya Haji Holidays. 
You can park your car at the entrance to the museum. 
Address
Jalan Istana, 50566 Kuala Lumpur
Tel: +603 2267 1000
GPS Coordinates:
N03.08870&deg E101.53152&deg
Admission Fee
Malaysians with MyKad
Adult: RM5
Student: RM3
Children(6-12 years) with school uniform: RM2
Senior Citizen (55 years old and above) and OKU: RM3
Foreigners
Adult: RM10
Children(6-12 years): RM5
Go the the Museum Official Page