Raja Tun Uda Library
The RM70 million Raja Tun Uda Library or Perpustakaan Raja Tun Uda is now open to the public. This modern library is equipped with the latest gadgets in town and include a 6D cinema. This cinema is one of the main attractions here as you will not find this facility in other libraries in Malaysia. 
This library is managed by Perbadanan Perpustakaan Awam Selangor or Selangor Public Library Corporation.
The modern library in Shah Alam.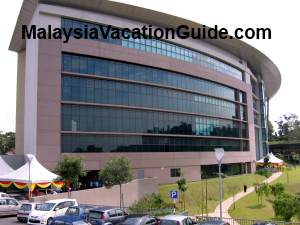 This RM70 million library is located beside a lake.
6D Motion Ride Cinema
The eight-seater 6D cinema is equipped with seats that can move sideways, sway and tilt to create "real life experience" to the visitors. On top of that, you will also experience wind, heat and cold depending on the scene that is being played.
The special effect is enhanced with the use of personalised dual-speaker systems. The fee is RM10/person for a 5 minutes ride. Different scene is played each day. Details as below:

Operating Hours: 10am-12pm, 2pm-4pm (3pm-5pm on Fridays)

Monday: Cosmic Coaster
Tuesday: Canyon Coaster
Wednesday: Ravine Racer
Thursday: Haunted Mine
Friday: Cosmic Coaster
Saturday: Canyon Coaster
Sunday: Ravine Racer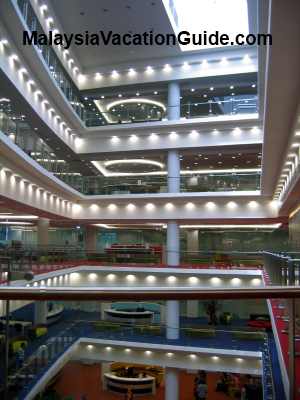 The nice and spacious interior view of the library.
Computers with internet connection ready for your use.
Other Facilities
Besides the normal facilities typical of a library, you can also exercise here to get your body in shape. There are gyms with the latest equipments that you can use while you are here.
Coin lockers are also provided for you to keep your bags while you are visiting the library. Computers with internet connection are also available for rent for RM1/hour.
This library overlooks the lake which is located just beside the building and provides a good view from the library.

Memberships
Residents of Selangor can apply for FREE membership using your MYKAD. Each member can borrow up to 3 books for 3 weeks. Renewal of the books can be done by phone after that provided no one has placed a booking for the books. The phone number to call is +603 5519 7667 extension 104.
Audio video CDs/DVDs can be borrowed if you join as a member of the audio video section. The membership fee is RM20/year. You can borrow up to 3 CD/DVD for 3 weeks.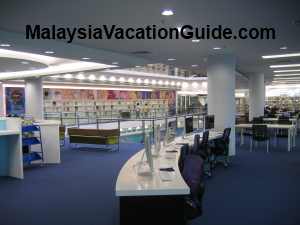 The well-furnished Raja Tun Uda Library for your use.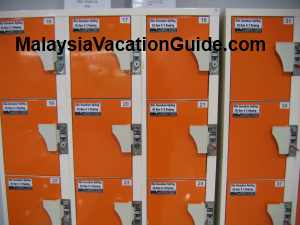 You will need three 20 cents coins to use the locker.
Operation Hours
Monday: 10am to 6pm
Tuesday-Friday: 9:30am to 6pm
Saturday-Sunday: 9:30am to 5pm

Getting Here
If you are driving, head for section 13 in Shah Alam near Sultan Abdul Aziz Golf Club. The GPS coordinates are N03.08870° E101.53152°.
Address:
Perbadanan Perpustakaan Awam Selangor
Jalan Kelab Golf 13/6
Seksyen 13, 40100 Shah Alam
Selangor Darul Ehsan

Tel: +6 03 5519 7667