Pulau Tenggol
If you're looking for a tropical paradise that's not too crowded, not too expensive, and not too far away, then you might want to check out Pulau Tenggol island. It's a small island off the coast of Terengganu, Malaysia, that's part of the Terengganu Marine Park. It's about 3km in length and 2km at it's widest point.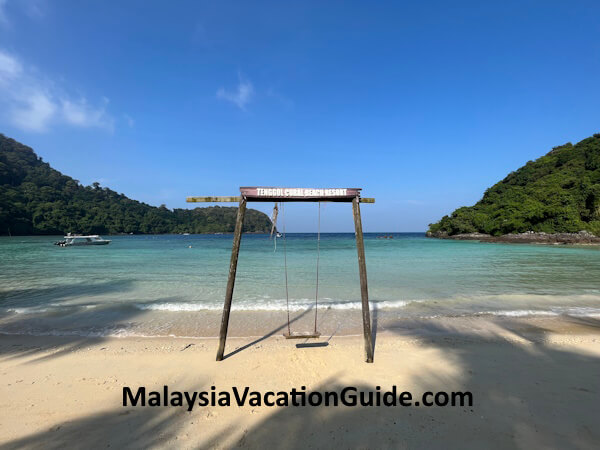 View from the island
This island is the last island in a string of islands that include Pulau Perhentian and Pulau Redang, but it's much less developed and more secluded than its neighbors. It only has about three resorts, so you can enjoy the natural beauty of the island without the crowds and noise. The island was traditionally uninhabited, but now it's home to some friendly locals who will welcome you with open arms and delicious food.
This island is a hidden gem in the South China Sea that offers a unique and unforgettable island getaway. It's a perfect escape for nature lovers, adventure seekers, and anyone who wants to have some fun in the sun. So what are you waiting for? Pack your bags and head to Pulau Tenggol island today!
Activities at Pulau Tenggol
1. Snorkeling
You can watch the rich marine life by snorkeling at Tenggol Island. It is like a calm and colorful coral garden with a variety of fish, clams, stingrays, turtles, bumphead parrot fish and nudibranchs. The water is clear and pristine, especially in the good season of Tenggol Island.
It has some of the best diving and snorkeling spots in the country, with crystal-clear waters, stunning coral reefs, and abundant marine life. You might even spot a whale shark.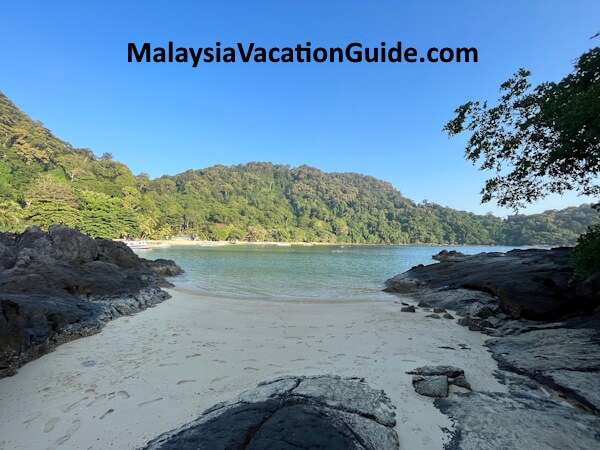 View of the beach from another part of the island
2. Scuba Diving
One of the main attractions of Pulau Tenggol island is diving. The island has over 25 dive sites that cater to different levels of experience and preferences. You can dive among colorful corals, exotic fish, turtles, rays, bumphead parrotfish, sharks, and other sea creatures. Tenggol Island is also known for its less polluted and undeveloped dive sites.
Some of the popular dive sites are Teluk Air Tawar, Tanjung Gemuk, Tokong Laut, Rajawali Reef, and Amazing Grace Wreck. You can also take diving courses on the island and get certified by PADI. 
You can also explore the nearby islands of Pulau Nyireh and Pulau Tokong Timur, which have more dive sites and marine life.
Diving and snorkeling sites of the island
3. Hiking
You can also hike to the highest point of the island and watch the sunset from there. It is a breathtaking sight that you don't want to miss. The hike is not too difficult and takes about 30 minutes. The hotel where you stay will be able to guide you for the hike.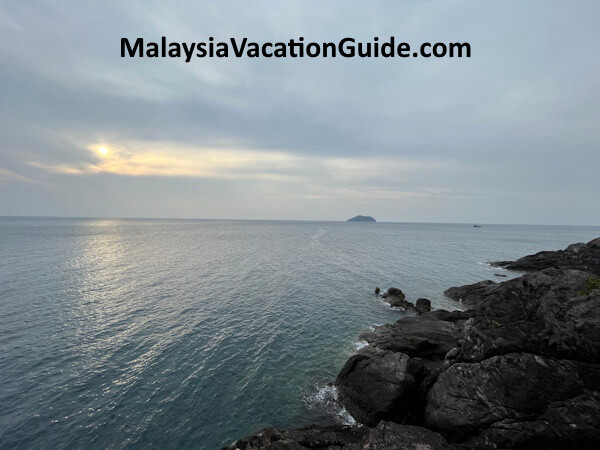 See the sunset after the hike up the hill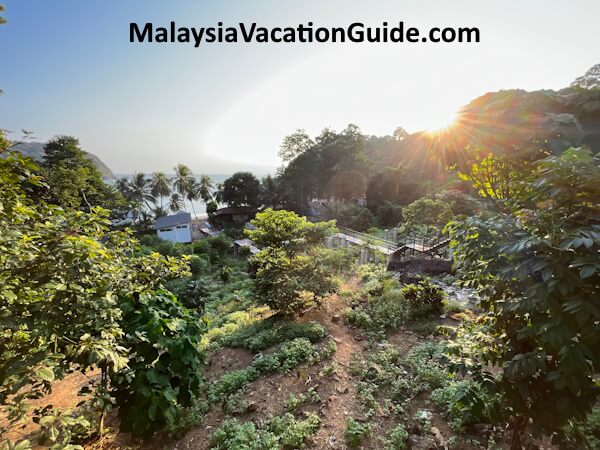 Greeneries on the island
4. Kayaking
If you want to enjoy the scenic views of the island and the sea, you can try kayaking around the island. You can rent a kayak from the resort or join a guided tour. Kayaking is a fun and relaxing way to experience the beauty of Tenggol Island.
Walk along the sandy beach for a time of relaxation
5. Relaxing
You can also just relax on the white sandy beach and enjoy the sun and the breeze. Tenggol Island is a peaceful and secluded place where you can unwind and recharge. You can also watch the stars at night or catch some crabs on the sand.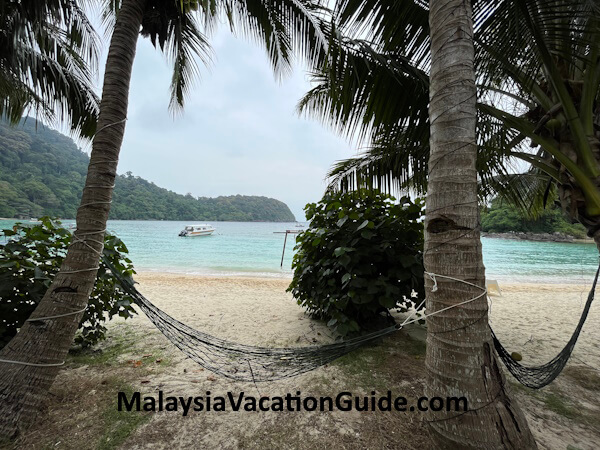 Hammock under the coconut trees.

Accommodation
The two resorts that are actively operating are Tenggol Coral Beach Resort and The One Tenggol Resort. As this is a secluded island, all accommodation, meals and activities are usually package together when you book.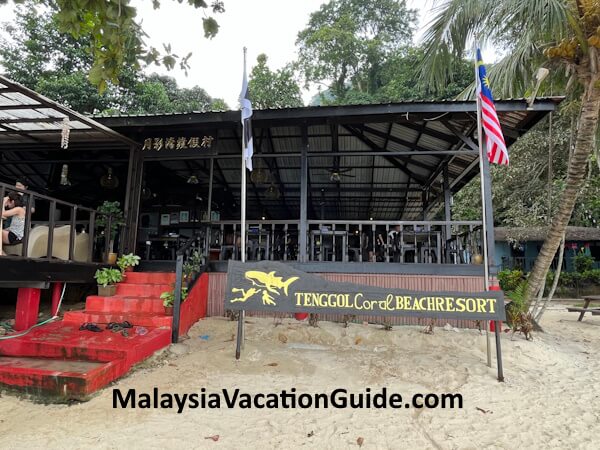 Tenggol Coral Beach Resort
Chalets at Tenggol Coral Beach Resort
New chalets near the hillside
The One Tenggol Island Resort

Getting to Pulau Tenggol
The best time to visit Pulau Tenggol island for diving and snorkeling is from April to September, when you can expect calmer waters and good weather conditions. The water temperature is suitable for swimming all year round, but the visibility is better during these months. You can also see more marine life during this period, such as whale sharks from July to October and manta rays from March to May.
To get to Pulau Tenggol island, you'll need to take a boat from Kuala Dungun on the mainland, which takes about 45 minutes. The resort will usually arrange the boat transportation for you. The jetty is A'king Jetty, Jalan Rajawali, Kampung Pulau Serai, 23000 Kuala Dungun, Terengganu.
The jetty is located at Riverbank Dungun Guesthouse. You can park your car here for a fee.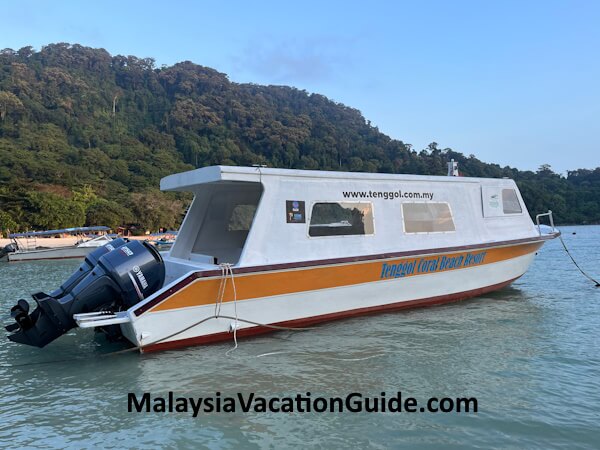 Tenggol Coral Beach Resort Boat
Visit also Rantau Abang Turtle Conservation and Information Centre
See more places to go in Terengganu