Petrosains KLCC
Petrosains is located at Level 4 of Suria KLCC. This place is a science discovery centre where you will be brought back to the age of the dinosaurs, discover about earthquakes and how human life have changed with the discovery of petroleum. As the centre is interactive in nature, you will be able to use your five senses in exploring science.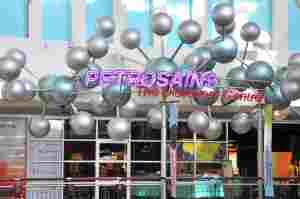 The futuristic entrance at Level 4
See, hear, smell, touch and feel as you travel in the dark tunnel, experience the helicopter flight simulation and getting on an oil platform. There are over hundreds of interactive exhibits and programmes spread over the 7,000 square metres at the Petronas Twin Towers.
Some of the highlights that will entertain you for hours include:
Geotime Diorama will take you back 200 million years ago where dinosaurs reigned. You will also discover how earthquakes happen and the formation of petroluem that has since changed the way we live.
Petrojaya is a cartoon village where dynamic high technology is blended with the Malaysian art of shadow play or Wayang Kulit. At this area, visitors will be use in our daily lives that contain petrochemicals.
Dark Ride it will be the beginning of your unique journey in Petrosains. The ride, shaped as an oil drop, will bring you in a dark and tranquil ambience through the rainforest of Malaysia, up to the peak of a mountain, before diving into the sea, and finally going through a video display depicting Malaysia's transformation and its advancement into the new millennium.
Flight To The Oil Platform take you to experience the rush of bracing a storm at sea on a helicopter ride. This helicopter simulator takes visitors to an offshore platform more than 100 kilometres at sea in stormy weather. Interestingly, everything on the platform has been built according to scale, including the living quaters of the crew.
SPEED is an exhibit area that will thrill visitors who are ardent fans of the Formula One (F1) sports. With hands-on exhibits that simulate the technology and science behind F1, this is one exhibition area not to be missed.
SPARKZ. Have endless fun at the Grain Pit, find out what it's like to be a great inventor at Invention, be mesmerized at Interactive Art and bring out the creative spark in the little ones at Tot Spot. Learning is more fun at SPARKZ.
Exploration is a section where all the hi-tech tools and techiques used for petroleum exploration are displayed. Visitors will have the chance to glimpse into the job af a geologist or seismologist in this exhibit area.
SPACE is one exhibition not to be missed. Learn more about the mysteries of the outer space and astronomy here.
Operation Hours Admission Fee
Operation Hours
Mondays - Closed but open on public holidays or during school holidays.
Tuesdays to Fridays - 9:30am to 5:30pm.
Saturdays/Sundays/Public Holidays - 9:30am to 6:30pm
During school holidays, the operation hours are from 9:30am to 7:30pm.
Plan to visit this centre for at least 2 hours.
Admission Fee
MyKad Holders:

RM20 - adult(13 to 60 years old)
RM8 - 3 to 12 years old
RM10 - above 61 years old

Non-MyKad Holders:

RM30 - adult(13 to 60 years old)
RM18 - 3 to 12 years old
RM15 - above 61 years old

Getting to the Petrosains KLCC
The Petrosains is located at level 4 of KLCC. The best means of transport to come here is by taking the Kelana Jaya LRT Line. Board the LRT and alight at KLCC station. Follow the signage to KLCC and you will be here in about 5 minutes time.
Address:
Petrosains
Level 4, Suria KLCC
Petronas Twin Towers
50088 Kuala Lumpur

Tel: +603 2331 8181