Kelong Fishing in Sabak Bernam
If you are into fishing and would like to have a good place to spend your holiday cum fishing, head for Kelong Fishing in Sabak Bernam, Selangor. The name of the resort is Kelong Paradise Waterfront Resort which is built 15 nautical miles off the coast of Sabak Bernam.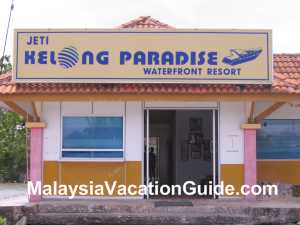 The resort office at Bagan Nakhoda Omar beach.
The Bagan Nakhoda Omar beach is where the jetty to the resort is located and it takes about 2 hours drive from Kuala Lumpur. The time taken to reach the kelong by speedboat is about 15 minutes. Built at a cost of RM10 million in 2000 by Selangor State Government, this huge structure is currently managed by Kelong Paradise Waterfront Resort.
Anglers had been able to get fishes such as thread fin (senangin), golden snapper (janahak), stingrays, grouper, bawal and tenggiri. Fishing package for a 24 hours stay is available which include 2 way boat transfer between Bagan Nakhoda Omar Jetty to the kelong and all meals.
Deep sea fishing packages are also available for big groups (10 persons) that will take you to other islands on the Straits of Malacca such as Pulau Sembilan. Weekdays packages (Monday to Wednesday except for public holidays) are cheaper compared to weekends.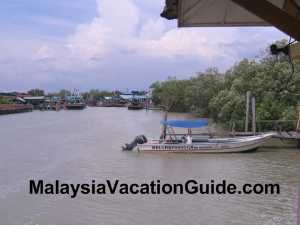 The view of the sea from the jetty.
Those who are not into fishing can come here for a day trip but charges apply depending on the day of your trip. Meeting packages for up to 100 persons are also available. Other value for money packages for individual, families, groups and seafood barbeque can also be arranged.
This kelong has air conditioned rooms and dorms (from 7pm to 9am) to ensure that you are comfortable during your stay here. Other facilities include Karaoke Room, Driving Range, American Pool, Children Indoor Games and Surau.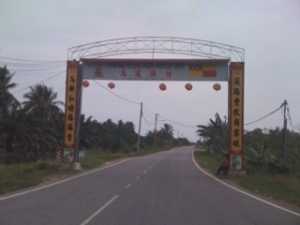 Turn into this arch into the fishing village after the Sek. Keb. Simpang Empat B.N.O. School.
GPS Coordinates: N03°46.049' E100°52.386'

Call Tel: +6 013 271 9481 or +6 013 216 1130 for more information.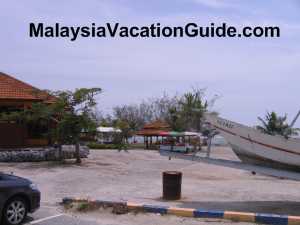 The parking bays near the beach.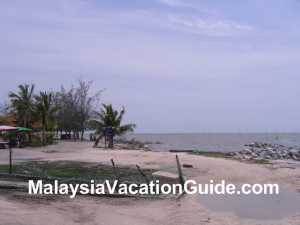 The Pantai Bagan Nakhoda Omar beach where many come here to enjoy the breeze of the sea.
Getting Here
If you are coming from Kuala Lumpur, get to Sungai Buluh and use the coastal road towards Kuala Selangor. You will pass by Pasir Penambang, Tanjung Karang, Sekinchan and Sungai Besar. After Sungai Besar town, look for the signage to Pantai B.N.O which stands for Pantai Bagan Nakhoda Omar at the left hand side of the road.
Turn left after the signage and go straight all the way until you see a school called Sek. Keb. Simpang Empat B.N.O. Turn left after the school and go straight until you reach the beach. The jetty is located here.