Islamic Arts Museum
If you are visiting Tasik Perdana or Lake Gardens, drop by the Islamic Arts Museum where many other key attractions such as the Bird Park, the Butterfly Farm, National Planetarium, Police Museum, Hibiscus and Orchid Gardens are located. This museum was opened in December 1998 and is the largest exhibit in South East Asia.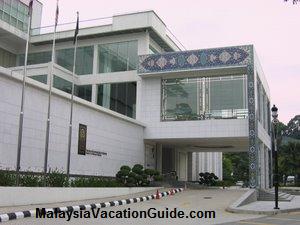 The huge building that houses the Islamic artefacts and replicas of Islamic Architecture.
There are 12 galleries with over 7,000 artefacts on display besides the books that are available for you to see at the library in this building. The themed galleries have display of Islamic manuscripts, arms and armour, textiles and coins, ceramics, glassware and metalwork. Besides exhibiting the works from the Middle East region, other artefacts from China, India, Asia and other South East Asian nations are also shown here.
At level 3 of the permanent galleries, you will be able to see the works of arts from the countries of India, China and the Malay world. Also located at this level are the Architecture Gallery which shows the replicas of famous buildings from around the world such as the Taj Mahal in India, Amir Timur Mausoleum in Uzbekistan and Masjid Al-Haram Mosque in Mecca. The Ottoman Room is a reconstructed interior of an Ottoman Syrian room dated from 1820 AD to 1821 AD.
Level 4 exhibits the Jewellery Gallery, Textiles Gallery, Metalwork Gallery, Woodwork Gallery, Arms and Armour Gallery, Ceramics and Glass Gallery. All the collections are displayed in chronological order, by region, by theme or by the technique of production.
Opening hours
10am - 6pm (Mondays to Sundays)
Jalan Lembah Perdana
50480 Kuala Lumpur
Malaysia.

Tel: + 6 03 2274 2020


Admission Fee
RM14 for adults and RM7 for children 6 years and above.
Free for children below 6 years old.

Getting Here
Take the KTM Komuter train to the Kuala Lumpur Station. Use the pedestrian tunnel crossing and cross over towards the Railway Station Headquarters office. Walk towards the direction of the National Mosque and you will arrive at the museum in 10 minutes time.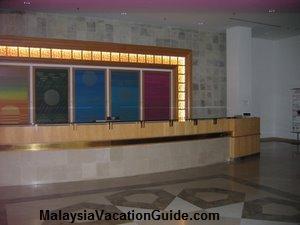 The spacious lobby area of the Museum.

Further information about the museum can be obtained from Islamic Arts Museum website.