Galeri Petronas
Galeri Petronas is located at the base of the Petronas Twin Towers in the city of Kuala Lumpur, this exhibition centre is owned by PETRONAS, the national oil and gas corporation of Malaysia. It is set up with the objective to promote the development and preservation of art in Malaysia.
This is done by providing a venue for the displays of art, publications of Malaysian art, resource centre within the gallery and sponsoring documentations to encourage the progress of art in Malaysia.
The exhibits change throughout the year hence it is always a good idea to drop by whenever you have the time every 3 to 4 months.
Some of the themes that were on displays at the main gallery were:

Nusantara Journey showcases the PETRONAS Adventure Team's Nusantara Expedition to Indonesia, as captured by Masnor Ramli photography, paintings and videos.
Daerah Samad showcases over 100 sketches of national laureate poet Datuk A. Samad.
50 Ways To Live in Malaysia presents half a century of 50 works by Malaysian artists. Themes range from the land and cityscapes, peoples and faiths to the quest for identity.
Building Merdeka showcases independence architecture in Kuala Lumpur such as Stadium Negara, Parliament House, National Monument, Dewan Bahasa dan Pustaka, National Muzium, Masjid Negara and Subang Airport.
Petronas on Film is a film screening of the last 15 years of Petronas National Day and national festival television commercials that potray our multiracial essence.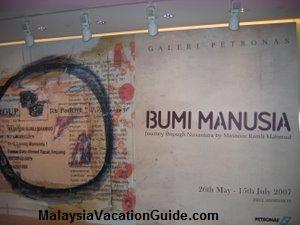 One of the typical drawing of a particular theme that greets you at the entrance to Galeri Petronas KLCC.
Out of the Mould showcases the works by Malaysia's women artists. They are Yee I-Lann, Bibi Chew, Shoosie Sulaiman, Nur Hanim, Umi Baizura, Yau Bee Ling, Nadia Bamadhaj, Azliza bt. Ayob, Shia Yih Ying and Hayati Mohktar.

Other exhibition that were featured here include:

Spain Through the lens of a Malaysian Photographer shows a collection of 44 colour photographs of the Islamic Heritage in the Spanish region of Andalusia by Alex Moh.
The Independence Project exhibits the aspects of Independence through the lens of artist practices, independent spaces and social contexts in Malaysia and Australia.
Check out the latest exhibits on display while you are in KLCC doing your shopping. The theme of the exhibits changes from time to time.

Getting to the Gallery
Galeri Petronas is located at level 3 in Suria KLCC. The best means of transport to come here is by taking the Putra LRT. Board the Putra LRT and stop at KLCC station. Follow the signage to KLCC and you will be here in about 5 minutes time.
Address:
Level 3, Suria KLCC
50088 Kuala Lumpur

Tel: +603 2051 7770

Operation Hours And Admission Fee
Operation Hours
Mondays - Closed 
Tuesdays to Sundays - 10:00am to 8:00pm.


Admission Fee
Admission is FREE