Fireflies at Kampung Kuantan, Kuala Selangor
by Mark & Debra
(Kuala Lumpur, Feb 2011)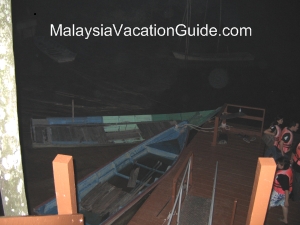 The boats that take visitors on the river.


If you're thinking of visiting the fireflies at Kampong Kuantan, my advice is, it's really not worth the trouble. My wife and I just went this evening. It was a good night: no rain, no moon showing, not too busy, so we were looking forward to a good evening.

The facilities were good, with lit parking and well-ordered sign-in and payment, nice clean life jackets and local people to man the craft. We boarded the small dingy and paddled out into the river, moving swiftly down stream for a few minutes then slipping into the side by the bushes where we could see the little flashing beetles clearly. 15 minutes later we were back at the jetty.

No carefree drifting down river; we barely travelled 30 meters from the brightly-lit jetty. The boat man hardly said a word, without serious prompting, and took the minimum trouble to get us close to the bushes before paddling back up for his next load. It could have been wonderous; we were expecting 30-40 minutes for the RM40 we paid for the trip (3-4 to a boat), not the 17 minutes we actually had.

It took us 1.25 hours to travel each way, hardly worth the journey. Another person was clearly dazed at being back on the road to KL half an hour after arriving. And it wasn't even a busy evening for the place.

It could be so much better. All it would have taken was a proper river trip of a few hundred meters down and back again, but as it was we were barely out of the shadow of the tourist centre the whole time.

So, a nice idea but no where near what it could be and, like other tourist facilities here, apparently little more than an excuse to take your money and politely push you on your way to make room for the next victim.