Bukit Tinggi Resort
Bukit Tinggi Resort recently was renamed Berjaya Hills but many still prefer to use the old name. This resort is about 60 minutes drive from the city of Kuala Lumpur and has an area of 16,000 acres with an abundance of lush tropical rain forests. Situated 800 m to 1,000 m above sea level, this resort will be an ideal destination for the entire family as the facilities here cater to people of all ages.
This refreshing and cool resort offers the Colmar Tropicale, a French-themed resort with activities such as outdoor dining and street performances. Equally impressive is the Japanese Village with attractions such as the tea house, the botanical gardens and spa. For golf enthusiasts, the Berjaya Hills Golf and Country Club offers an 18-hole picturesque golf course.
For the children, there is the Rabbit Park where they can play and cuddle with the more than 200 rabbits that are being kept in the park. Other activities are the Donkey Ride and the Deer Sanctuary for the entire family to enjoy.
Bukit Tinggi Colmar Tropicale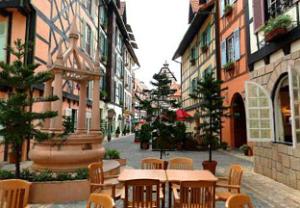 The distinctive Tropical Colmar, a replica of 18th century Colmar French Village in Alsace.
One of the place you will not miss is the colourful Colmar Tropicale that remind us of the European fairy tale stories with tall building, clock and castle-like structure. This structure is not seen in any other parts of Malaysia hence making it an experience of a lifetime to many first timers.
You will see a cobblestone courtyard where street performances and outdoor dining are held here. Notice the cuckoo clock tower and go up the viewing tower in the vicinity.

Other facilities available at the Colmar Tropicale are..
La Cignone Restaurant offers visitors an authentic French cuisine.
Le Blason Coffee House offers a 24-hour dining experience with international buffet being offered almost everyday.
La Flamme Sidewalk Deli has pizza and pasta, a common cuisine in Italy and France.
Le Poulet Roti provides roasted chicken to those who need additional energy after a long day's walk.
La Boulengarie Bakery and Le Vin Wine offer all the bakery and wine for your convenience.
Les Cadeaux French souvenir shop provides you with choices of souvenir to be brought back as a momento.
La Lavande Creations craft centre is another place where you can source for your souvenir.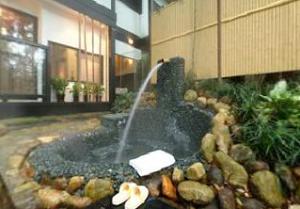 The Colmar Tropicale Wishing Well.
Japanese Village


As you move to the nearby Japanese Village which is set at an altitude of 1,000 metres above sea level, you will notice a beautiful landscape and well maintained garden with an invigorating surrounding. The village also offers a Japanese Restaurant that serves Japanese cuisine. There is also the Japanese Tea house which offers you a traditional Japanese tea ceremony experience.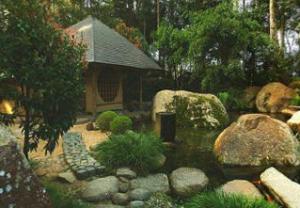 The scenery in the vicinity of the Japanese Tea House.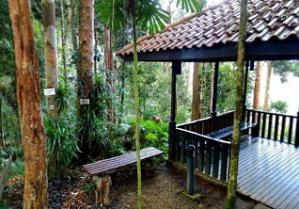 The Botanical Gardens set in the midst of lush tropical rain forest of Bukit Tinggi.
While you are here, try feeding the Japanse Carp or popularly known as "Koi" in the streams and pools nearby. If you need to refresh you body, take a hot bath at the Tatami Spa. Finally, there is a Japanese souvenir shop that offers various souvenir for you to bring back as a remembrance of your trip here.

Other Facilities
Children of all ages will enjoy going to Rabbit Park where over 200 rabbits are kept here for you to cuddle, feed and play. Then there is the donkey rides that will take you back to the early days in the Middle East where donkeys were the main transportation used.
If you have the time, go to Deer Sanctuary and you will see many spotted and Timorensis deers which originates from Holland and Sulawesi, Indonesia. Horse riding and archery are other activities that one can do to complete your trip to Bukit Tinggi Resort.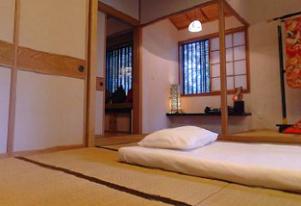 The clean and cosy environment at the Tatami Spa Massage at the Japanese Village.
Day Trip Tickets
The day trip entrance ticket is:
RM16/adult and RM9/child from 4-12 years old for entrance to Japanese Village, Botanical Garden and Rabbit Park.


You can purchase the tickets at the entrance to the resort.
Getting To Bukit Tinggi Resort
There are buses operated by Bukit Tinggi Resort that takes visitors up to Colmar Tropicale and back. You can take the shuttle bus at Berjaya Times Square or KL Plaza at Bukit Bintang.
Further information can be obtained by calling +6 09 288 8888.
The beautiful 18-hole golf course at Bukit Tinggi Resort.