Ain Arabia Kuala Lumpur
Ain Arabia or Arab Street has everything that resembles the shopping lifestyle of the Middle Eastern population. This street is located at Jalan Berangan in Kuala Lumpur in Bukit Bintang, the shopping haven for locals and tourists alike. In an effort to encourage tourists from the Middle East, this area was created by the Kuala Lumpur City Hall where Arabs can come here to dine, shop and meet.
Although it is designed to meet the needs of the Arab community and tourists, this place is also frequented by locals and other tourists who want to experience the food and culture of the Arabs in Malaysia.
This place become packed during the months of July to Sept when many Arabs come to Malaysia for holidays. This time coincide with their school holidays and many choose to go overseas to escape the scorching heat in Middle East during this time of the year. The temperature in the Middle East during the peak summer can go up as high as 47°C.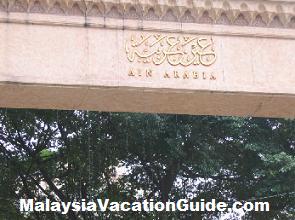 You will not miss this place if you come using the monorail. Stop at Bukit Bintang monorail station and this street is just 5 minutes walk away. There is an arch with the name "AIN ARABIA" engraved on it as you walk along the street.
Shops & Services
Some of the shops and facilities that you can find here include:
Sahara Tent Restaurant
is located at Fortuna Hotel and serves Arabian cuisine. If you are from Middle East and would like to savour Arabian cuisine after been in Malaysia for some time, this is the place to dine. Besides tourists, students and expatriates from the Middle East can also be seen dining here. There is an Arabian garden just beside the restaurant. Certain sections are reserved for veiled women to dine in private. Men who enjoy smoking the Shisha can do so just outside the restaurant.
Hay Al Arab Restaurant
serves Yemeni cuisine.
A travel agency known as Jet Connections provides services to those who want to go for tours around Malaysia.
Barber, laundry and souvenir shops are also located along this street for the convenience of shoppers who come here.
Gazebos, a teapot fountain and concrete benches are other facilities that are provided for a time of recreation and relaxation in the midst of the busyness of Bukit Bintang.
The signage leading you to Fortuna Hotel where Sahara Tent Restaurant is located.
Getting Here 
This place is located within walking distance of Lot 10, Sungai Wang Plaza, Bukit Bintang Plaza and Isetan shopping complexes. The easiest way to come here is by taking the Kuala Lumpur Monorail. Stop at Bukit Bintang Station and Ain Arabia or Arab Street is located just within minutes of walking distance. 
Within The Vicinity
Remember to visit Berjaya Times Square and Pavilion Kuala Lumpur . Both are located at Bukit Bintang shopping triangle in the heart of Kuala Lumpur.