Tun Hussein Onn Memorial
Tun Hussein Onn memorial was officially declared opened by Prime Minister Datuk Abdullah Ahmad Badawi on 10 February 2006. It houses materials relating to Tun Hussein Onn, the nation's 3rd Prime Minister. The exhibition shows in chronological order the account of Tun from his early years to his sudden ascendance to become the Prime Minister followed by his last years.
The exhibition starts at level 3 where visitors will be shown the information on the first four Prime Ministers of Malaysia. The passage way is decorated with pictures of Tun, highlighting his relationship with leaders from around the world. The various awards received by Tun is also on display at this level.
Level 2 shows the lineage of Tun, his early childhood, school days, as a civil servant and military personnel before his involvement in politics.
Level 1 shows the services and contribution of Tun to the nation. A souvenir shop and cafeteria is located here as well.
If you are a student and would like to know more about Tun, this is a good place where you can find all the resources related to Tun. Plan to spend 1-2 hours here going through all the articles, photos and related items.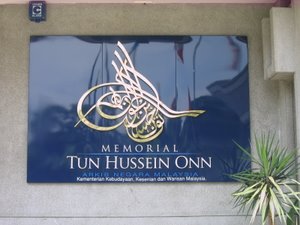 The signage at the entrance to the Memorial at Jalan Dato' Onn.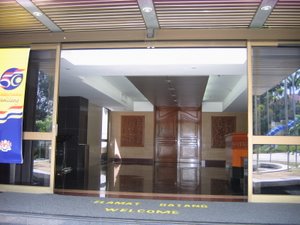 The entrance to the memorial.
Opening hours
Tuesdays-Sundays : 10am to 5:30pm 

Fridays : 10am to 12:15pm, 3pm -5:30pm

The memorial is closed on Mondays except during public and school holidays.
Address
Blok A, Kompleks Bukit Perdana
Jalan Dato' Onn
50480 Kuala Lumpur

Tel: +6 03 2072 2663


Admission Fee

Admisson to the memorial is FREE.

Getting Here
The memorial is easily accessible to the public as it is located in the city centre. Take the KTM Komuter train to Bank Negara Station. The memorial is approximately 10-15 minutes walk away. Alternatively, take a taxi from the station as the weather can be quite hot and humid during the day.