1 Utama Shopping Center
1 Utama shopping center is one of Malaysia's top shopping destination and is located in the city of Petaling Jaya. This shopping center is about 20 minutes drive from the city of Kuala Lumpur. It has 6 retail floors with a total area of 5 million square feet. There are over 600 shops that sell all kind of goods that you can look and browse through. The prices of goods are fixed with occasional sales that are offered at certain times of the year.
The decoration during Chinese New Year.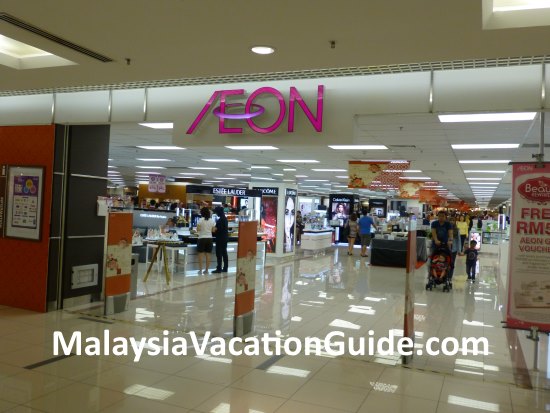 AEON Shopping Centre
As one of the biggest shopping mall in Malaysia, 1 Utama has something for everyone. Varieties of food here include Chinese, Malay, Western, Japanese, Vietnamese, Italian as well as other local delicacies that you can savour. The majority of these food stalls and restaurants are opened throughout the year to cater for your needs.

If you need entertainment, there are Tanjung Golden Village and Golden Screen Communications cinemas that screened the latest box office hits in town.
On top of that there is also the indoor rock climbing gym Camp5. Bowling enthusiasts will be happy to use the 36 lane bowling Centre U-Bowl.
It also boasts of a tropical rainforest within the shopping center where huge tropical plants are a permanent feature of this premier shopping center. Called "Rainforest", it has over 100 species of flora and fauna for your enjoyment. After a long day's shopping and walking, this is the place where you can sit down and rest. There are plenty of cafes and restaurants surrounding this place and the Rainforest is a great place to go for your meals.

There is also The Secret Garden which is located at the rooftop of Rainforest. There are over 500 species of plants that are being cultivated here. It is open on Saturdays, Sundays and public holidays. Opening time is 10am to 10pm and admission is FREE. A good place to take a rest and fresh air after a long day of shopping.
The other park that you can go to while you are here is the Central Park Bandar Utama which is located directly opposite the New Wing of 1 Utama Shopping Centre.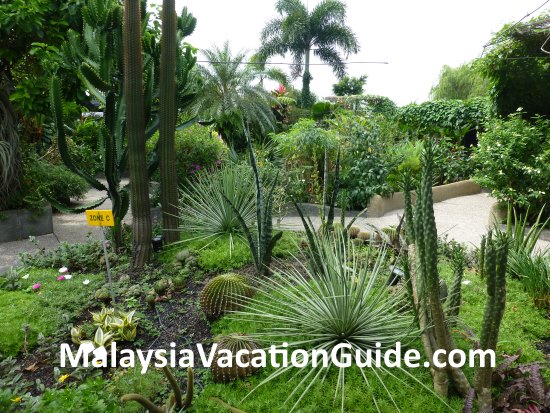 The Secret Garden at level UR, Rainforest.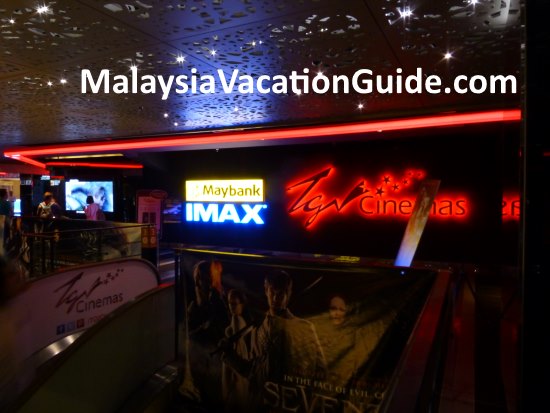 TGV Cinema is located here.
Malaysia being a multicultural society has many celebrations. Among them are Chinese New Year, Hari Raya Puasa, Deepavali,and Christmas. During these times of the year, this mall will decorate its foyer with the theme to coincide with the celebration.
Free Water Refills
Bring your own water tumbler and get free water refills while you are shopping here. Here are the locations of the refill stations.
LG Rainforest near Teh Tarik Place
LG Rainforest near O 'Briens
GF Centrecourt near Poh Kong
GF Oval near Guess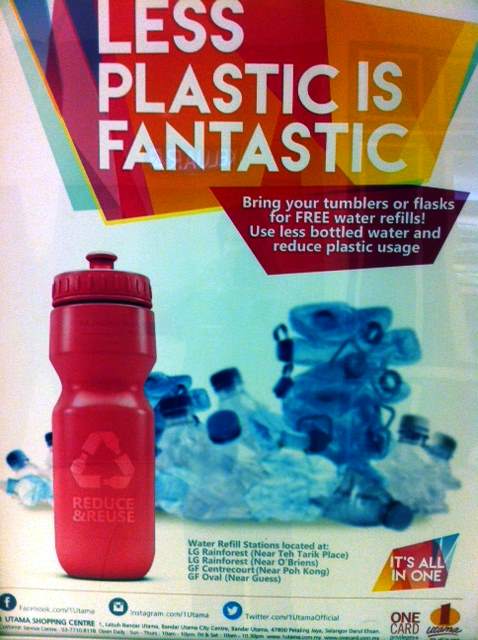 Get your water refills while shopping here.
Getting Here
As one of the premier shopping center, you can take a bus, use the LRT or flag down a taxi to get to this place.
LRT and Taxi
If you use the LRT, make sure you go to the Kelana Jaya LRT line and get off at Kelana Jaya LRT. Take a taxi from here and you will reach here in 10 to 15 minutes time.
If you prefer not to wait for the LRT, you can take a taxi wherever you are to get here. Make sure that you ask the taxi driver to quote you an approximate price and the meter is ON.
BUS
If you are coming from KL Sentral, take the Rapid KL Bus No. U82. 
If you are coming from Putrajaya Sentral, take Bus No. T43.
If you are coming from Kepong Metro Prima, take Bus No. U86. 
If you are coming from Kelana Jaya LRT Sentral, take the Rapid KL Bus No. U89. 

Complimentary Shuttle BUS for ONECARD member
You can also take the complimentary bus from Kelana Jaya LRT station to the mall. This is only for those who are members of ONECARD. The time is 8:15am, 9:15am, 11:30am, 1:30pm, 4:00pm and 6:45pm. Check out at the information counter to confirm the time or call the mall at Tel: +603-77108118.
Bus To Genting Highlands
1 Utama - Genting Highlands Bus
If you intend to go to Genting Highlands, you can now take a bus from 1 Utama. This bus service is available from 8am to 7pm daily. The one way fare is RM8.50/adult and RM6.80/child inclusive of Skyway Transfer to Genting Highlands.

Bus To KLIA2
1 Utama - KLIA2 Bus
If you intend to go to KLIA2 Airport from 1 Utama, you can now take the Skybus bus from 1 Utama. This bus service is available from 3:00am to 11:00pm daily. The one way fare is RM15. Tickets can be purchased at the AirAsia flights or on the bus. The KLIA2 to 1 Utama route is also available with the same price. See the detailed schedule here. It takes about 75 minutes to reach the destination. 
Parking
If you are driving, the parking rates at the mall depends on where you park and how you pay. Rates are lower if you are a ONECARD member. You will need to join as a member in order to enjoy the ONECARD Preferred Parking. Dataran Parking is an open area car park.
Regular Parking Areas using ticket: RM2(First 4 hours) & RM1(every subsequent hour)
Regular Parking Areas using ONECARD: RM1(First 4 hours) & RM1(every subsequent hour)
ONECARD Preferred Parking: RM3(First 4 hours) & RM1(every subsequent hour)
Platinum Parking: RM10 per entry.
Dataran Parking: Weekdays rates - RM2 per day using ONECARD, RM4 per day using ticket. Weekends rates - RM1 per day using ONECARD, RM2 per day using ticket