Taman Megah Food and Shops
Taman Megah in Petaling Jaya is one of the township that was built after SS2. It is located within the vicinity of Taman Sea, Taman Bahagia, Taman Mewah Jaya and Kelana Jaya. There are many no-frills hawker type of shops with good food that you can try if you are within the vicinity of this place.
The Ming Tien food court has a varieties of hawker food that you can try.
The famous restaurant that serves crab as one of the main dishes.
Some older shops have been taken over by franchise outlets such as Old Town White Coffee and Secret Recipe. Both of these shops are corner shops and located at both end of the row of shops near the main traffic light of the town.
Getting here should not be too difficult as it is located beside the LDP (Lebuhraya Damansara Puchong) highway near Kelana Jaya LRT Station. If you have a GPS, the coordinates to key in are:

N03°06.836' E101°36.703'
The big hawker centre called Ming Tien is located just beside the Pet Family Shop and Taman Megah Badminton Courts. There are many kinds of food you can try from the various stalls. Porridge, noodles, dim sum, bak kut teh, popiah, claypot chicken rice, sarawak noodles, mixed rice and grill fish to name a few. All the stalls are open in the evening. Some stalls also operate in the morning and during lunch hours.
Fatty Crab Restaurant is open for dinner from 5:30pm to 11:30pm and serves crabs, fried rice, "satay", prawns, fish, toasted bread, grilled chicken wings and other chinese dishes. Monday is a rest day. If you want to come here for your dinner, come early as this place is quite pack most of the time especially during the weekends.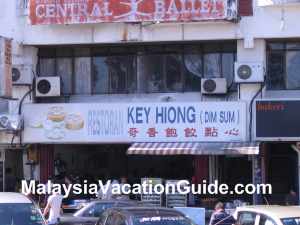 Dim Sum shop is open daily.
Try the Sarawak noodles for breakfast here.
If you are into "Dim Sum", try the no-frills Key Hiong that serves "big pau", glutinious rice, chee cheong fun, fish ball, brinjal, ladies finger and other selection of Chinese cuisine. Usually pack during the weekends and public holidays.
Try also Sarawak dried noodles in the morning at Restoran Gembira. Most customers in the morning will order these noodles from one of the stalls here. Other stalls serve "pan mee", curry mee and other typical Chinese food.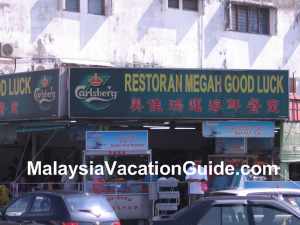 Try the curry mee here.
The morning market.
Pet Shop is also located here.
Megah Good Luck Restaurant also has many stalls. The curry mee here is quite popular with the locals. You may want to try it for breakfast or lunch.
The morning market known as "Pasar Taman Megah SS24" was recently open for business. It is a wet market and is open in the morning daily except Monday. Get your vegetables, fish, fruits and chicken here.
There is also a pet shop that sells all kind of fishes, aquarium and pets. It is located just beside Ming Tien food court.