Subang Skypark Terminal
Subang Skypark Terminal used to be called Terminal 3 that served as the domestic airport for jet planes such as Aerobus and Boeing. Since 1998, Malaysia Airlines and other major airlines have shifted their base to Kuala Lumpur International Airport (KLIA). Similarly, AirAsia was also relocated to KLIA in 2002. The Low Cost Carrier Terminal or LCCT was then built specifically to cater for low budget airlines such as AirAsia.
Terminal 3 was then used as the airport for turbo propeller planes such as Berjaya Air and general aviation. It undergone extensive renovation work in 2008 and was completed in 2009 with a new name known as Subang Skypark. This terminal is nearer to the city of Kuala Lumpur and Petaling Jaya.
Today, Firefly Airlines, a low cost no-frills budget airline is the main airline that uses this terminal besides Berjaya Air. Cargo carrier Transmile Air Services is also using this airport as its base.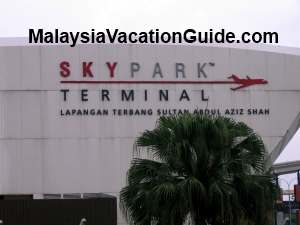 The Skypark Terminal is also known as Sultan Abdul Aziz Shah Airport.
The main entrance to the airport. Notice the many taxis dropping and picking up customers.
FireFly Airline 

Here are some of the destination that Firefly service from this terminal using ATR-72 planes:

Malaysia
Alor Setar, Kedah
Ipoh, Perak
Johor Bahru, Johor
Kota Bharu, Kelantan
Kerteh, Terengganu
Kuantan, Pahang
Langkawi, Kedah
Melaka
Penang Island
Kuala Terengganu, Terengganu
The Firefly Airline Ticketing Office.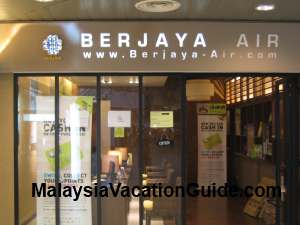 The Berjaya Air office. Fly to Tioman, Pangkor, Redang and Langkawi from this terminal.
Indonesia
Thailand
Singapore
Most of the good rates are offered online and promotional tickets for advance bookings are held throughout the year. Use web check-in to save the cost incurred if you were to do manual check-in at the counters. Further information can be obtained online or call +60 3 7845 4543.
Berjaya Air 


Here are some of the holiday destination that Berjaya Air service from this terminal using Dash 7 and ATR-72 planes:
Tioman Island
Redang Island
Langkawi Island
Pangkor Island
Further information can be obtained online or call the reservation office at Subang Terminal Tel: 603-7845 8382.

Parking Facilities 


If you are driving and prefer to leave your vehicle at the airport, there is a big parking bays opposite the entrance of the terminal. It is managed by Smart Parking. The 1st hour is RM3 and subsequent hour is RM2. The first 15 minutes is free of charge. A day's parking or 24 hours costs RM49.
There is another parking bay nearby which is managed by Metro Parking. The rate is lower as it is further away from the airport. The 1st hour isRM1.50 and subsequent hour is also RM1.50. Overnight or 24 hours parking costs RM36.
Always remember to remove your valuables from your vehicle and lock it as you are parking at your own risk.
The food and beverages outlets.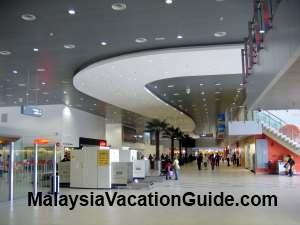 The fully air conditioned Ground floor view of the terminal.
The parking bays opposite the Subang Skypark Terminal.
Subang Skypark Terminal Facilities 


This modern terminal has all the basic facilities that are expected of an airport.
Food and beverages are available for your convenience while waiting for your flight. See the shops and other basic facilities below.
McDonald fast food has an outlet here. Walk to the end of the terminal and you will not miss this restaurant.
Subway outlet serves a variety of sandwiches.
Starbucks Coffee is the place to have a cup of coffee and chat with friends before departing or while waiting for your friends.
Big Apple serves donuts and coffee.
Simply Chicken is another restaurant located at the ground floor.
Austin Chase has western food if you miss your regular western food from home.
Cafe Barbera and Jack & Diane are other food outlets that you can choose for your meals.
Pos Malaysia is also here if you are thinking of sending letters back home.
Firefly, Berjaya Air and AirAsia offices are all located at the ground floor of the Subang Skypark Terminal.
CIMB Bank has a branch here.
Money changer facilities are located both at the ground and first floor.

Getting Here and Away 


If you would like to go to Kuala Lumpur from the airport, you can purchase the ticket at the taxi ticketing counters near the information centre before going out of the building. The price is about RM40 to Kuala Lumpur and RM30 to Petaling Jaya.
Address

SkyPark Terminal
M17, SkyPark Subang Terminal 
Sultan Abdul Aziz Shah Airport
47200 Subang
Selangor.

Tel.: +60 3 7845 1717