Malaysia Food At Lot 10
If you are in Bukit Bintang doing your shopping and would like to taste authentic Malaysia food in particular Chinese food, head for Lot 10 Hutong. Lot 10 is a shopping mall and is one of the oldest mall here. Isetan and National Geographic have outlets here as well. The Lot 10 Hutong is located at the lower ground floor of the mall and features over 25 authentic Chinese cuisines some of which have survived for 4 generations.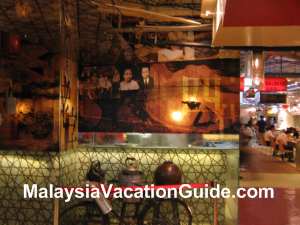 The entrance to the food court.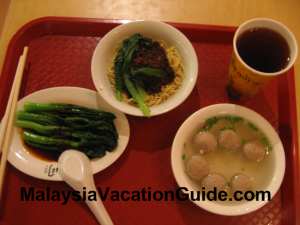 The set beef noodle from Soong Kee stall.
Most of the original stalls started off as family-owned businesses and are passed down from one generation to another. They are still operating all over Malaysia and the idea of getting all of them together in one location was the idea of YTL Corp Bhd group managing director Tan Sri Francis Yeoh. YTL owns Lot 10 Shopping Mall. With this, you can now enjoy the authentic Malaysia cuisines in Kuala Lumpur without travelling all over Malaysia.
Here are some of the varieties of Malaysia food that you can try. Most of the food is non-halal.
Popiah from Campbell Mini Popiah is a side dish that you can order. This Teochew style spring roll was established in 1970 at Lorong Tiong Nam, Kuala Lumpur. Two popiah will cost you about RM5.
Beef Noodles from Soong Kee Beef Noodle stall is another original Hakka style noodles that was established in 1945 at Jalan Tun Tan Siew Sin, Kuala Lumpur. Set meal that include drinks and vegetables can be ordered for less than RM10.
Fried Hokkien Mee from Kim Lian Kee is tasty and was established in 1927 at Petaling Street, Kuala Lumpur. The noodles is fried with black sauce, prawns, vegetables and pork.
Wanton Mee and Pork Rib Noodle from Ho Weng Kee is another good stall to try. It was established in 1935 at Petaling Street, Kuala Lumpur with the recipe originated from China. Barbeque pork and wanton are served together with the dried noodles for less than RM10.
Porridge from Swatow Teochew serves authentic Teochew porridge. It was established in 1967. The other porridge stall you can try is from Hon Kee which serves Famous Cantonese style porridge. It was established in the year 1949. A bowl with yu tiao(dough stick) will cost about RM10.
Chicken Rice from Hainan Chicken Rice is delicious and was established in 1976.
You will have to make a few visits to this food court if you want to try most of the cuisines here. Duck, Tofu, Dim Sum, double-boiled soup, Thai food and dessert are other interesting food you can savor here.
A lok-lok stall.
Buy some sesame seed oil and tau sar pneah from Ghee Hiang stall. This shop has its root in Penang.
Lot 10 Shopping Centre.
Getting Here
The best way to get here is by taking the Kuala Lumpur Monorail. Go to the nearest KL Monorail station and alight at Bukit Bintang station. Take a walk to Lot 10 Shopping Centre and head for LG Floor. The stalls are opened daily from 10am to 10pm.
Address:

Lot 10 Hutong
LG Floor, Lot 10 Shopping Centre
50 Jalan Sultan Ismail
50250 Kuala Lumpur.

Tel: +6 03 2782 3591