Ikano Power Centre
As of May 2017, this mall is under extensive renovation. Most of the shops have been closed with the exception of Harvey Norman, ACE Hardware and a few smaller shops. 
Ikano Power Centre in Mutiara Damansara is one of the most visited shopping centre in Petaling Jaya. It is located within walking distance of e@Curve, IKEA, TESCO, The Curve and The Royale Bintang Damansara Hotel. This mammoth concept shopping complex houses up to 11 anchor tenants which take up 80% of the approximately 39,000 square metres retail space.

The mammoth signage at the mall that show the many anchor tenants in the mall.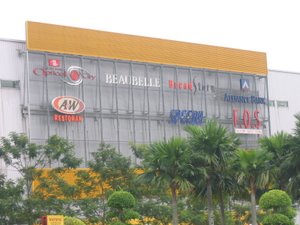 Another view of the huge shopping mall.
The tagline of the mall is "Choice is Everything" where you will be able to find something that meet your lifestyle and household needs. The goods offered here include hardware accessories for your household needs, wide range of books, electrical items, groceries, latest fashion in town, home furnishings, sporting goods and food. There is even the luxurious De' Ritz Pet Hotel of which you can leave your pets for a few days while you are away from the city.
The shopping mall is opened from 10am to 10pm throughout the year. Some of the anchor tenants that you will be able to find here include:
ACE HARDWARE is where you will find your hardware needs for your house, garden, cars, etc.
POPULAR BOOK is where you can spend the entire day with your family to browse through all the books, CDs and VCDs within the same floor. You will be able to find many latest titles here. Apply for the POPULAR CARD for a fee of RM10 per year and you will enjoy 10% discount off any books that you purchased except the nett items.
HARVEY NORMAN has a big retail space that offers household goods such as furniture, bedding items, computer and electrical goods.
FOCUS POINT OPTICAL CITY is where you go to make your spectacles, contact lens or simply for your vision check up.
COLD STORAGE is where you will be able to purchase groceries and other household stuff.

Pet Safari
PET SAFARI is the place where you pamper your pets. This centre has a clinic for your pets, a grooming centre for your cats and dogs, a Pet Hotel where your cats or dogs will be well taken care of while you are away from the city.The De' Ritz Pet Hotel is a 5-star hotel for your cats or dogs with an area of 4,000 square feet which is fully air-conditioned.
Claimed to be the first of its kind in Malaysia, the "room rates" is RM38/day for cat/dog below 10kg and RM48/day for dog above 10kg. There is even a pet sitting service available while you go around shopping. The full day rate is RM15. If you are looking to purchase a dog or a cat as your pet, there are many breed with certificate that you can choose from at the shop.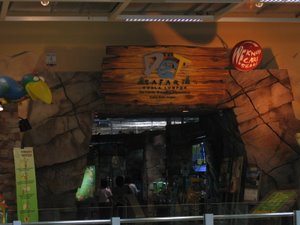 The main entrance to Pet Safari.
The fully air-conditioned free shuttle ride from Kelana Jaya LRT station to IKANO.
Getting Here
Mutiara Damansara is linked to the Lebuhraya Damansara Puchong (LDP), the New Klang Valley Expressway (NKVE), SPRINT Highway, Pancala Link and Kerinchi Link making it one of the most accessible area in Petaling Jaya. Parking bays are available at the building itself for a fee of RM2.
The map and address of the shopping mall:
No 2, Jalan PJU 7/2
Mutiara Damansara
47800 Petaling Jaya

Tel: +6 03 7720 7333
You can also take the free shuttle bus service provided by IKANO Power Centre. All you need to do is to take the Kelana Jaya Putra Line LRT and stop at Kelana Jaya Station. Walk across the road by using the pedestrian bridge and wait for the bus at the bus station.
It will pick you up from this bus station to IKANO Power Centre. Once you are in IKANO Power Centre, you will be able to see this building just across the road.
The Pick-up schedule is as shown below:
No
From Bus Stop opposite Kelana
Jaya LRT Station
From IKANO Power Centre Main
Entrance Gnd Floor
1
9:00 am
9:30 am
2
10:00 am
11:00 am
3
11:30 am
12:30 pm
4
1:00 pm
2:30 pm
5
3:00 pm
4:00 pm
6
4:30 pm
5:00 pm
7
5:30 pm
6:30 pm
8
7:00 pm
7:30 pm
9
8:00 pm
9:00 pm
10
9:30 pm
10:30 pm